LOUISVILLE, Ky. – At one time, people with intellectual/developmental disabilities (IDD) were mostly children. Thanks to medical advances and the deinstitutionalization movement, the number of adults living in the community with IDD has grown dramatically. These individuals require the same health-care services as any adult, but their care may come with added challenges. Most physicians in adult medical specialties have not been trained to work with these patients, and may not be comfortable with the communication challenges or other unique needs they may have.
Priya Chandan, M.D., M.P.H., assistant professor in the UofL School of Medicine and in the School of Public Health and Information Sciences, is leading nationwide efforts to help future physicians become more knowledgeable about caring for patients with IDD throughout their lives. Chandan, who has an older brother with Down syndrome, has a personal understanding of the need for physicians who can provide equitable care for people with IDD.
"This patient population is not just a pediatric population. All physicians need to be comfortable serving patients with IDD," Chandan said.
To achieve that goal, Chandan is leading the National Curriculum Initiative in Developmental Medicine (NCIDM), a partnership between Special Olympics International (SOI) and the American Academy of Developmental Medicine and Dentistry (AADMD) to ensure future physicians receive training to care for individuals with IDD across their lifespan. Over four years, 12 medical school partners will design and implement their own curriculum enhancements. UofL is part of the first cohort for this training, along with Baylor College of Medicine and the University of Colorado. The second cohort includes Ohio State, Case Western Reserve and Georgetown Universities.
Chandan also is working with Amy Holthouser, M.D., senior associate dean of medical education, to develop the educational programs at UofL. One program is an elective rotation for fourth-year students at Lee Specialty Clinic, an interdisciplinary clinic that focuses on caring for people with IDD that is funded by the Commonwealth of Kentucky. Through working with the patients and staff at Lee Specialty Clinic, the students will become more comfortable treating these patients.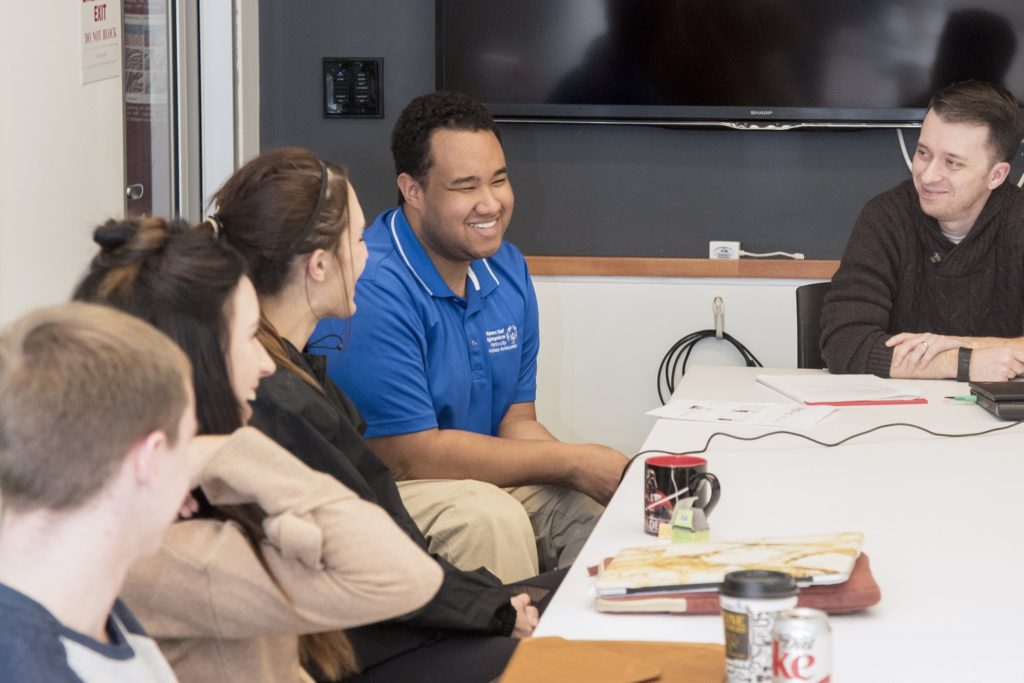 In addition, second-year medical students at UofL are participating in small group discussions led by Special Olympics Kentucky (SOKY) athletes in the Athlete Leadership Program. The goal of these discussions is to help the students better understand the needs of IDD patients by hearing their story and having the athletes express their needs.
Morgan Turner, a SOKY Athlete Ambassador who has met with the second-year students, said the most important message he wants to convey to the students is to include him in communication.
"When working with someone with a disability, be patient and ask questions to the patient and the parent. Don't just talk to the parent," Turner said.
"Communication is a big part of it," Chandan said. "While this is a medical education project, we also see this as a way for people with intellectual and developmental disabilities to be self-advocates. Having them speak directly to medical providers about what it is like to be a patient and what they need from us is powerful."
Chandan recently received two additional grants to expand her work. The first, an SOI Inclusive Health Innovation Grant, aims to improve education for resident and attending physicians regarding care for people with IDD. Chandan will be working with the American Academy of Physical Medicine & Rehabilitation (AAPM&R), leading efforts to educate resident and attending physicians regarding physiatrists' role in the care of patients with IDD. Darryl Kaelin, M.D., chief, professor and residency director of the UofL Division of Physical Medicine and Rehabilitation and president of AAPM&R, also is working on the project.
The second grant is from the Working for Inclusive and Transformative Healthcare (WITH) Foundation to collaborate with the University of Kentucky's Human Development Institute to develop a tool to aid with informed consent discussions. The tool will have the look of a graphic novel and will help facilitate conversations between health-care providers, patients with IDD and supporters.
"I went to medical school with the intention of being a physician who serves patients with IDD," Chandan said. "Along the way, I realized that we have work to do in terms of health education and health-care delivery. My goal with these efforts is to improve care for these patients."
#WeAreUofL