As the population ages and demand for healthcare increases, occupations in the health industry are expected to grow by 1.9 million between 2018 and 2028.
The University of Louisville's executive online Master of Science in Health Administration (MSHA) will prepare health organization executives to broaden their management competencies and pursue career advancement.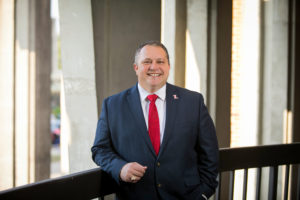 "This is the ideal time to pursue the online MSHA at UofL. We created this program to provide health care leaders with a high quality learning experience. We focus on the most critical competencies necessary for effective organizational leadership and population health management," said Lee Bewley, PhD, FACHE, associate professor and director of health management programs in the Department of Health Management and Systems Sciences, UofL School of Public Health and Information Sciences (SPHIS).
This executive online MSHA is designed for healthcare professionals with at least five years of experience and admits both administrative and clinical leaders including physicians, dentists, nurses and allied health providers. This option is an online track of the school's in-person MSHA, which is accredited by the Commission on Accreditation of Healthcare Management Education.
"We are thrilled to offer this new degree at SPHIS," said SPHIS Dean Craig Blakely, PhD, MPH. "This online degree is one of many ways we offer top-tier education beyond the physical campus to meet the demand of modern learning."
The two-year degree prepares students for higher-level leadership and responsibilities such as overseeing and managing services, programs, staff, budgets, facilities and systems. Taught by leaders in healthcare innovation, the executive MSHA courses will guide students through:
Exploring broad principles and important influencers within top health care organizations
Examining data-driven methods of strategic leadership and effective management of health care organizations
Analyzing external policy and health care environments that affect management
Graduates will be prepared to pursue board certification through the American College of Healthcare Executives (ACHE), meeting the education requirements to take the exam and equipping them with the knowledge needed to complete it successfully.
Graduates also can pursue MGMA, AAMA and/or HFMA certification.
For more information, call 800-871-8635, email online@louisville.edu or visit the online program website. See all of UofL's online programs at: http://louisville.edu/online/program-finder.