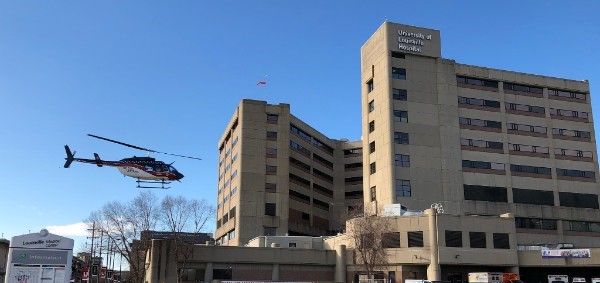 UofL Hospital has been re-verified as a Level I Trauma Center by the American College of Surgeons, recognizing the hospital's dedication to providing the highest quality of trauma care for all injured patients.  
A team of experienced reviewers in the field of trauma conducted an on-site review of the hospital in July, and the hospital received word of the re-verification this month in an official letter. The verification process provides confirmation the hospital has demonstrated its commitment to providing optimal care. 
"The re-verification is acknowledgement of all the hard work that happens here at UofL Hospital every day," said Kim Denzik, MSN, RN, director of the UofL Hospital Trauma Institute. "There is a tremendous amount of work and preparation that goes into the trauma review. There are a lot of people to be thanked for their continued hard work, diligence and commitment to providing the very best care for our patients."
The re-verification came from the American College of Surgeons' Verification Review Committee, an ad hoc committee of the group's Committee on Trauma.
The Committee on Trauma's verification program does not designate trauma centers, rather it provides confirmation that a trauma center has demonstrated its commitment to providing the highest quality of trauma care. The actual establishment and designation of a trauma center is the function of local, regional or state agencies. However, verified trauma centers must meet essential criteria that ensure trauma care capability and institutional performance as outlined by the Committee on Trauma.
Having the expert level of care here in Louisville is important to patients like Brandon Clark, who was in a dirt bike accident in March 2017 at age 19.
"I was at my girlfriend's house racing my brother when the throttle got stuck and I was thrown 53 feet," Clark said. He was transported from Floyds Knobs, Ind., to UofL Hospital, where he was diagnosed with a broken femur and a separated shoulder. He underwent surgery with an orthopedic specialist at UofL Hospital the next morning.
"It was very rough in the beginning," Clark said. "I was just 19, and I couldn't even walk. I left the hospital in a wheelchair. I wanted to give up on life. But nobody there let me give up."
By August 2018, he was walking again – at the Kentucky State Fair. It was there he ran into a member of the Trauma Center's staff, Annabelle Pike.
"I wanted to tell her just how great it felt to be walking again. I wouldn't be here without the staff at UofL Hospital. They work with you a lot. They want to help you out the most."
Today, he's going to the University of Northwestern Ohio to be a diesel mechanic, and driving home on weekends to do farming and construction work from his home in Ballardsville, Ky. On Oct. 16, he said he was able to run a mile, just a year and a half after his stay at UofL Hospital.
He said he's appreciative of the second chance he was given. "It made me realize you can lose your life in the blink of an eye."
Established by the American College of Surgeons in 1987, the Committee on Trauma's Consultation/Verification Program for Hospitals promotes the development of trauma centers that provide the entire spectrum of care to address the needs of injured patient, from preventing injuries before they occur, to the hospital resources necessary for trauma care, all the way through the rehabilitation process.
There are five separate categories of verification in the Committee on Trauma's program: Level I Trauma Center; Level II Trauma Center; Level III Trauma Center; Level I Pediatric Trauma Center; and Level II Pediatric Trauma Center. Each has specific criteria that must be met. UofL Hospital is one of just two adult Level I Trauma Centers in the state of Kentucky, with the other at the University of Kentucky's Albert B. Chandler Hospital.
Founded in 1913, the American College of Surgeons is a scientific and educational association of surgeons to raise the standards of surgical practice and education and improve the care of the surgical patient. The College is an important advocate for surgical patients and has over 72,000 members, making it the largest association of surgeons in the world.
The College's Committee on Trauma promotes leadership and cooperation of all participants in a trauma center so injured patients are provided with the best possible care.