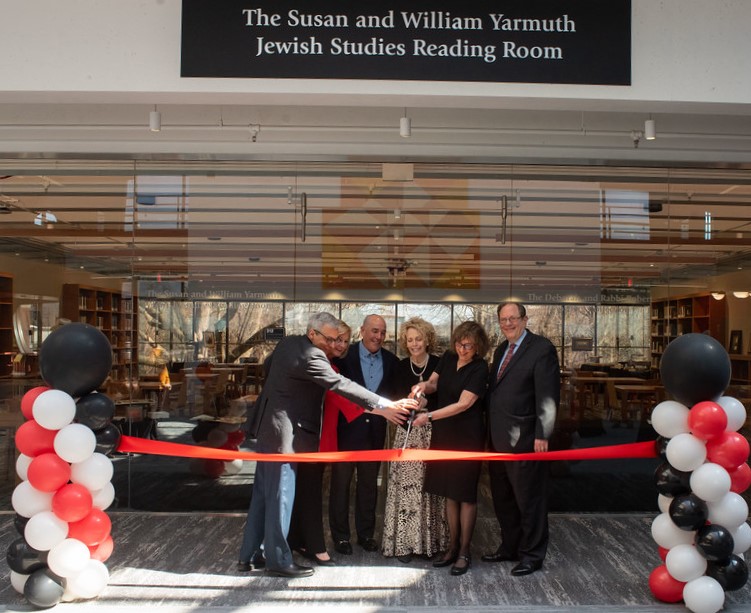 A special celebration of the University of Louisville and the community was held March 20 at the dedication and official unveiling of the Susan and William Yarmuth Jewish Studies Reading Room.
Located on the third floor of the Ekstrom Library, the space showcases UofL's Jewish Studies collection and houses the Deborah and Rabbi Robert Slosberg Collection along with other materials from the existing library collections. The Slosberg Collection consists of the personal library the couple amassed over decades of serving and leading Jewish congregations.
The room dedication began with ribbon-cutting ceremony and featured remarks from Interim President Lori Gonzalez, William and Susan Yarmuth, Rabbi Slosberg and Dean of University Libraries Robert Fox before closing with a mezuzah dedication. A mezuzah is a small scroll inscribed with prayers and verses from the Torah and attached in a case near the opening of a home or building as a sign of faith as a constant reminder of God's presence. As instructed in the Torah, Jews will often touch the mezuzah as they go through the door. In the Yarmuth Reading Room, it is located on the wall to the right upon entry. 
The space features floor-to-ceiling windows and offers one of the most scenic views on campus. Along with the Deborah and Rabbi Robert Slosberg Collection, the space features a drop-down screen, a built-in projection and sound system and Wi-Fi. It also includes a glass wall, which will include display cases that UofL's Jewish Studies Program, part of the Department of Comparative Humanities, can use to highlight its collections.
"We are excited to open the new Jewish Studies Reading Room and are grateful for the generous donations that allowed us to fully complete the room and open it to the public," said University Libraries Dean Robert Fox. "We hope that the room will serve to inspire future generations of scholars to greater success."
The Susan and William Yarmuth Jewish Studies Reading Room will be used for reflection, study space, public events and guest speakers. The newly designed room can seat approximately 50 and will soon be open during library hours.