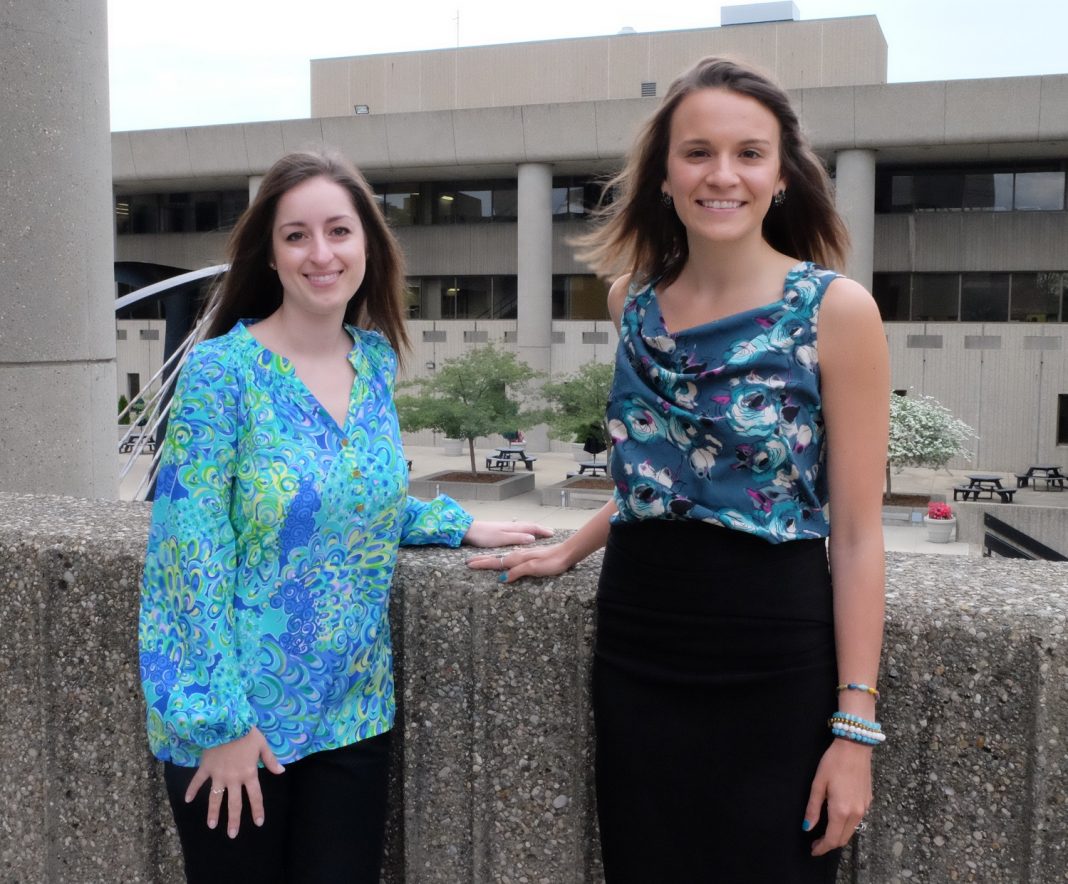 LOUISVILLE, Ky. – Jessica Eaton and Mackenzie Flynn, students in the University of Louisville School of Medicine, will delay their fourth year of medical school to spend nine months conducting medical research in Malawi and Kenya. Thanks to Fulbright-Fogarty Fellowships in Public Health for 2016-2017, Eaton plans to research the causes and assess the outcomes of brain and spinal cord injuries in Lilongwe, Malawi, and Flynn will work with pregnant HIV-positive women in Nairobi, Kenya to determine whether text messaging can increase compliance with treatments to prevent HIV transmission to their infants.
Fulbright-Fogarty Fellowships are offered for students enrolled in medical school or a graduate program in public health through a partnership between the U.S. government's Fulbright international study program and the Fogarty International Center of the National Institutes of Health. This is the first time two students in the same medical school have received Fulbright-Fogarty fellowships in a single year.
Eaton and Flynn have cultivated their interest in global health through participation in the Distinction in Global Health track (DIGH) at UofL, a supplemental curriculum for students in the school of medicine that introduces students to aspects of global health through clinical, social, political and epidemiological study.
"The Fulbright-Fogarty Fellowship is a great opportunity to participate in real-world experience in global health research," said Bethany Hodge, M.D., M.P.H., director of the DIGH track and the UofL School of Medicine's Global Education Office. "These experiences will take their academic skills to a higher level and prepare them for careers in global health."
As part of her research, Eaton will conduct a retrospective review of trauma records to determine the causes of traumatic brain and spinal cord injuries (TBI/SCI) as well as their treatment outcomes. In addition, she will conduct research to identify the best predictors of surgical outcomes in TBI/SCI patients using the patient's signs and symptoms to determine a surgical plan since the hospital lacks advanced imaging facilities such as CT or MRI. Eaton will conduct her research at Kamuzu Central Hospital (KCH) in Lilongwe, Malawi under the guidance of Anthony Charles, M.D., M.P.H., and other faculty with the UNC Malawi Surgical Initiative. She will use the surgical initiative's trauma and surgical registry, one of the largest such registries in sub-Saharan Africa.
"As a medical student planning to pursue neurosurgery and dreaming of practicing overseas in the places where I am most needed, I couldn't have crafted a better learning opportunity for myself," Eaton said.
As an undergraduate at UofL, Eaton was one of the inaugural James Graham Brown Fellows. That fellowship provided her with opportunities to travel, which sparked her interest in global health. She plans to enter neurosurgery and incorporate global health into her practice. [Hear Jessica Eaton's interview on UofL Today with Mark Hebert]
Flynn's research will focus on preventing mother-to-child HIV transmission. Anti-retroviral therapy (ART) helps increase lifespan and delay progression to AIDS in patients with HIV and is considered key to the prevention of mother-to-child transmission of HIV. Flynn's project will investigate whether text messages sent to pregnant HIV-positive women will increase ART adherence and prenatal health care visits. She will conduct her research under primary investigator Alison Drake, Ph.D., M.P.H., in collaboration with the Kenya Medical Research Institute in Nairobi and the Kenya Research Program at the University of Washington.
"This is an excellent opportunity to really understand how medical research can differ from benchwork," Flynn said. "Epidemiology, clinical trials conducted in an international setting, IRB approval and ethical considerations are all things I want to incorporate into my career in academia and in global health."
This year's fellowship will be the second Fulbright experience for Flynn. After receiving her bachelor's degree at UofL in 2012, Flynn received a Fulbright English Teaching Assistantship to Sivas, Turkey, where she taught university-level English-speaking courses to college freshmen at Cumhuriet University. Flynn's work in Kenya will build on experience she had during a medical service trip to Tanzania where she worked in an area with a high prevalence of HIV infections. She hopes to pursue a career in academic medicine and work in international health and research as an ob/gyn. [Hear Mackenzie Flynn's interview on UofL Today with Mark Hebert]
Hodge said the experience and research training Eaton and Flynn will receive will benefit not only their academic careers, but the other students in the DIGH track once they return to UofL to complete their M.D. program in August of 2017.
"We talk about global health as an academic discipline and think critically about the gaps in knowledge in this field. We spend a lot of time looking at the literature and thinking about the roles of physicians as researchers, policy-makers and social advocates in global health, in addition to being clinicians," Hodge said. "I look forward to these students returning after their fellowships because their boots-on-the-ground experience will enrich the discussions we have as a group. Hopefully they will inspire other students to pursue academic work in global health."
###
About the Fulbright-Fogarty Fellowship in Public Health
The Fulbright Program, the flagship international educational exchange program sponsored by the U.S. government, has partnered with Fogarty International Center of the U.S. National Institutes of Health to offer Fulbright-Fogarty Fellowships in Public Health. These fellowships grant medical students and graduate students interested in global health the opportunity to conduct research in public health and clinical research in resource-limited settings. Fellows spend nine months in one of nine countries in Sub-Saharan Africa, Asia or South America. The Fulbright-Fogarty program began in 2011.