LOUISVILLE, Ky. – In the simulation center at the University of Louisville School of Dentistry, several dozen undergraduate students are sampling some of the skills they would learn in dental school. The students, part of the Summer Health Professions Education Program (SHPEP), are getting a glimpse of what life is like in health professions school.
"This was really cool to do. We made impressions of our fingers like they do when they put braces on and mold your teeth," explained Whitney McKee, a college sophomore from Birmingham, Ala.
McKee is one of 59 undergraduates from around the United States who are spending six weeks at UofL this summer to boost their academic skills, network with health professions students and faculty, and learn about health-care career options. The students, from as far away as California, New York and Puerto Rico, all are interested in pursuing health professional careers after college such as medicine, dentistry, pharmacy, nursing or other advanced degrees.
Although she is a pre-med student, McKee is still refining her career plans. In SHPEP, she is learning about areas of health care she had not considered before.
"I'm open to anything because I don't know what specialty I want to do," McKee said. "I'm looking into dentistry and pharmacy and nursing. It's given me more information about public health, because we don't have that kind of program at my school."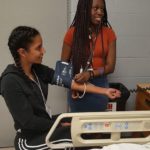 This is the 13th year for the program at UofL, one of 13 campuses across the United States hosting students in SHPEP in partnership with the Robert Wood Johnson Foundation and with direction from the Association of American Medical Colleges and the American Dental Education Association. The goal of SHPEP is to strengthen academic proficiency and career development skills of students underrepresented in the health professions. Many of the students identify as African American/Black, American Indian and Alaska Native and Hispanic/Latino, or come from communities of socioeconomic and educational disadvantage.
"This program really allows the participants to get a bird's eye view of what professional school will be like," said Sharon Gordon, M.S., coordinator of the SHPEP program at UofL. "The students are given the opportunity to study a few of the basic science concepts they will need to master in professional school and are taught by professors at the UofL Health Sciences Center. They also interact with other health-care professionals as well as current students during their time here."
The students stay in dorms on Belknap Campus and are introduced to the UofL schools of medicine, nursing, dentistry and public health, as well as the Sullivan University College of Pharmacy. Along the way, they learn about programs offered at UofL. McKee was surprised to learn UofL offers a Distinction in Global Health Track to students in the School of Medicine.
"You get the opportunity to learn about global health. I never knew that was an option and I'd really like to do that. I'll definitely be applying [to UofL] but I am an out of state student, so we will see," McKee said.
Meeting health professionals, potential mentors and like-minded peers is an important benefit for sophomore Alexandria Danielle Lee of the University of South Alabama. She plans to become a certified registered nurse anesthetist.
"Yesterday, I got to meet an anesthesiologist. Since I'm interested in anesthesia, that was very helpful for me. She said I can come shadow her," Lee said.
In addition to engaging in rotations in health-care settings and simulations like the one in the School of Dentistry, the students receive academic enrichment in basic sciences, as well as development of study skills, communication, financial literacy, interprofessional education, health equity and health policy.
"In the program, participants learn what they need to do to be prepared for the rigors of professional school," Gordon said. "Typically, the semester after they leave the program is one of their best based on the academic enrichment they receive through SHPEP."
Jarvez Ellis, a freshman student from Chowan University in North Carolina, said participation in SHPEP has given him tools to achieve his goal of becoming a physician.
"This program has allowed me to become more focused, clear and confident in my goals and what will be required to get into medical school," Ellis said.
Lee believes her participation in the program will pay off when she applies to advanced health programs.
"Not everybody wants to spend six weeks of their summer here at a program taking classes," Lee said. "This program really helps you stand out from other applicants."
#WeAreUofL