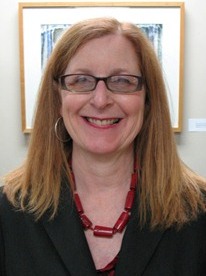 LOUISVILLE, Ky. – M. Cynthia Logsdon, professor in the University of Louisville School of Nursing, is the 2018 recipient of the Association of Women's Health, Obstetric and Neonatal Nurses Award of Excellence in Scholarly Education.
The award honors members of the association who have made strides in scholarly nursing education, contributing to the knowledge base of women's or neonatal health.
Logsdon is an international expert in women's mental health. She has worked with nurses in the mother-baby unit at UofL Hospital to improve patient education practices regarding postpartum depression and helped create the knowledge base of the role of nurses in preparing new mothers to recognize symptoms of depression after hospital discharge.
Logsdon's research has contributed to understanding and improving health literacy in low income and underserved new mothers.
"As the use of technology to retrieve health information became prevalent, I collaborated with interdisciplinary and clinical partners to conduct studies on how new mothers prefer to receive health information," said Logsdon, Ph.D., W.H.N.P.-B.C., F.A.A.N.
She led a recent National Institutes of Health-funded study that developed an online intervention that helped persuade an increasing number of teenage mothers across 10 Kentucky counties to seek medical help for depression, highlighting an inexpensive way to increase mental health treatment rates for this vulnerable group.
In addition to her research endeavors, Logsdon has mentored numerous nurses and nursing students at UofL. She is editor of the Journal of Advanced Nursing, serves on the editorial board of Archives of Women's Mental Health and is co-chair of the Expert Panel on Maternal and Infant Health of the American Academy of Nursing.
"Dr. Logsdon is a dedicated scholar for her scientific work in maternal child health and best practices in teaching mothers and families," said Marcia J. Hern, Ed.D., C.N.S., R.N., UofL School of Nursing dean. "She is a standout in the innovative use of technology and evidence-based application of health literacy to low income and underserved populations of new mothers."
#WeAreUofL
About the Association of Women's Health, Obstetric and Neonatal Nurses
Since 1969, the Association of Women's Health, Obstetric and Neonatal Nurses (AWHONN) has been the foremost authority promoting the health of women and newborns and strengthening the nursing profession through the delivery of superior advocacy, research, education and other professional and clinical resources. AWHONN represents the interests of 350,000 registered nurses working in women's health, obstetrics, and neonatal nursing across the United States. Learn more about AWHONN at www.awhonn.org.