Transportation difficulties, poverty and too few dentists make proper dental care almost impossible for many people who live in the Appalachian Mountains. In an effort to improve the oral health of southeastern Kentuckians, the University of Louisville School of Dentistry will collaborate with the Red Bird Clinic, Inc., to offer comprehensive, general dentistry for children, youth and adults in Clay County and nearby Bell and Leslie counties.
"Our collaboration with the Red Bird Clinic is a significant step for the university as we seek to systematically serve our mission to provide health care throughout the Commonwealth and improve the overall well-being of its citizens," said UofL Interim President Greg Postel, M.D.
Beginning Feb. 23, dental and dental hygiene students will begin clinical rotations at the Red Bird Clinic. Each week, six students will travel to Beverly, Ky., and help staff the Dental Clinic, open Thursday through Saturday.
"This new clinical site enhances the education of our students with enriching cultural and clinical practice experiences that will make them compassionate, exceptional dental health care providers," said the dean of the UofL School of Dentistry, T. Gerard Bradley, B.D.S., M.S., Dr.Med.Dent.
The Red Bird Clinic, Inc., is a 501(c)(3) non-profit that grew out of Red Bird Mission, Inc., which started in 1921 with a private school, and expanded to include medical and dental services, job training, clothes closet, food pantry, adult education, services to senior citizens and more.
Red Bird Clinic, Inc., Executive Director Kari Collins says the relationship with the UofL School of Dentistry increases the availability of dental treatment for the underserved.
"It is our hope that some of these students will be drawn to practice in rural areas; perhaps someone will return to serve at Red Bird Clinic in the future," Collins said.   
Under the leadership of Red Bird Clinic, Inc., Dental Director Bill Collins, D.M.D., the dental clinic provides a variety of services to about 20-25 patients daily, including cleanings, fillings, root canals, crowns, bridges and extractions.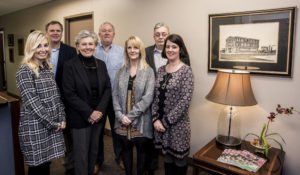 Dr. Collins, a graduate of the UofL School of Dentistry, says outreach is essential for the education of dental students.
"Everything is not cut and dry at outreach clinics; high difficulty levels provide challenges for the students and increases their abilities. It's amazing to watch as they begin to put things together and their eyes and faces become bright with satisfaction. I try to ask students to learn one new thing each day – if they will continue this, it will make them good, confident practitioners," Collins said.
Other alums of the School of Dentistry, Greg Bentley, D.M.D., Susan King, D.M.D. and Bob McGuinn, D.M.D., will serve on rotation as gratis faculty to oversee the UofL students.
A handful of dental students already have engaged in clinical dental services at the Red Bird Clinic in 2016. The school's four Outreach Scholars, a designation given through a competitive scholarship opportunity, rotate to six clinics throughout the state. Fourth-year dental student and Outreach Scholar Robbie Troehler says it is rewarding to help those in need.
"It has been a blessing to pursue a career in dentistry, and it is important for me to use my education to give back to fellow Kentuckians as I gain valuable experience in outreach clinics," said Troehler of Ludlow, Ky.
The School of Dentistry has a long history of helping serve the people of rural Kentucky, having participated in multiple Remote Area Medical events in Pikeville, Ky., where students and faculty provided free dental care to hundreds during each event.