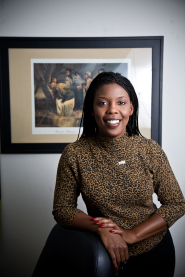 LOUISVILLE, Ky. – Star Parker, a national black business leader whose public policy think tank focuses on market-based solutions to fight poverty, will open the Spring Speaker Series at The John H. Schnatter Center for Free Enterprise at the University of Louisville College of Business.
Parker, founder of the Center for Urban Renewal and Education (CURE), will give a free, public talk Feb. 9. CURE is a Washington, D.C.-based nonprofit that promotes an agenda of traditional values, limited government and free markets to help low-income Americans transition from government dependency to economic independence.
Her talk, "USA Should Embrace, Not Over-regulate, Entrepreneurs," begins the three-part series "Entrepreneurship" and is also part of UofL's Black History Month events.
The next speaker in the spring series will be Bob Luddy, founder-president of commercial kitchen ventilation manufacturer CaptiveAire Systems, whose topic will be "The Entrepreneur: Servant of the User," March 9.
 The third and final event for spring will be a March 30 panel discussion, "Investors & Entrepreneurs: Different Perspectives." The discussion will feature Christina Bechhold, co-founder and managing director of Empire Angels, an angel investment group, and Jennifer Williams, founder and CEO of stuffed pet replica maker Cuddle Clones and a graduate of UofL's MBA program for entrepreneurs. The moderator will be UofL's Suzanne Bergmeister, entrepreneur in residence and assistant director of the Forcht Center for Entrepreneurship in the College of Business.
All events are free and will be at 4:30 p.m. in PNC Horn Auditorium in the college's Harry Frazier Hall.
For more information, contact Donna Zinser Clark, 502-852-5612, or visit SchnatterCenter.org.
                                                                        ###