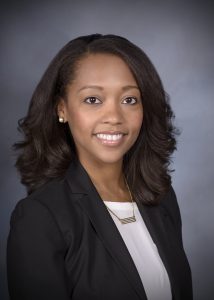 J'Aime Jennings, Ph.D., assistant professor, Department of Health Management and Systems Sciences, University of Louisville School of Public Health and Information Sciences, recently was named assistant editor for the Healthcare Economics, Policy and Organization section of the journal, Anesthesia & Analgesia.
Jennings will work alongside the editorial board and executive editor of the section to offer detailed criticism and analysis of manuscripts that have the potential for increasing the value of Anesthesia & Analgesia to the clinical and scientific community.
"I am thrilled for this opportunity to work with more senior colleagues, as well as provide service to the academic community. Furthermore, examining topics where I have expertise within a different context, in this case anesthesiology, offers me a truly enriching experience," Jennings said.
Jennings received a Ph.D. in Health Services Administration with a concentration in Strategic Management from the University of Alabama at Birmingham. She also holds a B.B.A. in Economics from the University of Georgia and a M.P.A. from the University of West Georgia.
Her research interests include the integration of public health and health care through collaborative relationships, population health management in hospital settings, and topics related to the broad theme of public health services and systems research. Jennings' most recent research focuses on the predictors and performance outcomes of hospital community orientation, and research surrounding the elimination of disparities in health outcomes.
Jennings is an active member of the Academy of Management Healthcare Management Division, as well as the AcademyHealth Membership Committee and Public Health Systems Research Interest Group.