LOUISVILLE, Ky. – Sean L. Francis, currently the interim chair of the Department of Obstetrics, Gynecology and Women's Health at the University of Louisville, has been named to the post permanently. The appointment was approved by the UofL Board of Trustees at its Jan. 14 meeting.
"Dr. Francis brings a patient-centered approach to care that enables him to partner with our patients to identify the best treatment options and infuses that approach in his work leading the department, its residents and students," said Toni M. Ganzel, M.D., dean of the UofL School of Medicine.
Francis was named interim chair in February 2015. He came to UofL in 2012 as associate professor and chief of the divisions of Female Pelvic Medicine and Reconstructive Surgery (FPMR) and Minimally Invasive and Gynecologic Surgery. He also is FPMR fellowship director and practices with University of Louisville Physicians-Urogynecology. Prior to his tenure at UofL, he was on the faculty of the Medical College of Georgia in Augusta.
Francis is board-certified in both obstetrics and gynecology and FBMR and completed a fellowship at the Mayo Clinic Scottsdale's Department of Gynecology, Urogynecology and Pelvic Reconstructive Surgery.
He has been named to "Top Doctors in America," "Best Doctors in America," "Top Doctors in Louisville" and "Top Surgeons in Louisville." The author or co-author of chapters in two reference manuals and 20 journal articles, Francis has made 47 oral, video and poster presentations at professional meetings in the United States, Canada and Wales.
He is a past winner of the Faculty Award for Excellence in Resident Education by the Council on Resident Education in Obstetrics and Gynecology of the American College of Obstetrics and Gynecology; the Association of Professors of Obstetrics and Gynecology Award for Excellence in Undergraduate Teaching; and the American Association of Gynecologic Laparoscopists' Special Excellence in Endoscopic Procedures Award.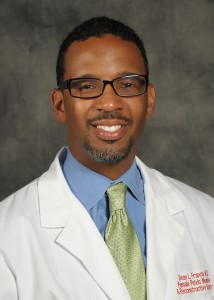 Francis earned a bachelor's of science degree, cum laude, in biology from Morehouse College, Atlanta, Ga., and his medical degree from Case Western Reserve University in Cleveland, Ohio. He completed a residency in internal medicine at Case Western's Mount Sinai Hospital and another in obstetrics and gynecology at the Medical College of Georgia.
###