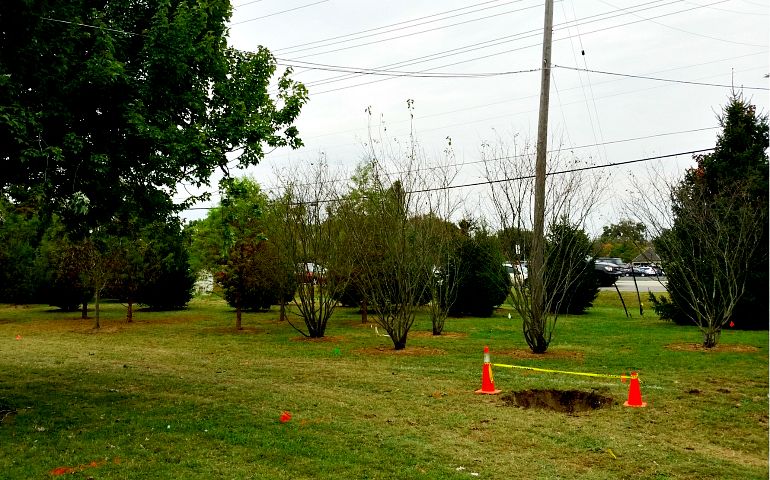 People who live in leafy, green neighborhoods may have a lower risk of developing heart disease and strokes, according to new research published online today (Dec. 5, 2018) in the Journal of the American Heart Association, the open access journal of the American Heart Association/American Stroke Association.
In this study, the first of its kind, researchers from the University of Louisville investigated the impact of neighborhood greenspaces on individual-level markers of stress and cardiovascular disease risk.
Over five years, blood and urine samples were collected from 408 people of varying ages, ethnicities and socioeconomic levels, then assessed for biomarkers of blood vessel injury and the risk of having cardiovascular disease. The participants were recruited from the UofL Physicians-Cardiovascular Medicine outpatient cardiology clinic and were largely at elevated risk for developing cardiovascular diseases.
The density of the greenspaces near the participants' residences were measured using the Normalized Difference Vegetation Index (NDVI), a tool that indicates levels of vegetation density created from satellite imagery collected by NASA and USGS. Air pollution levels also were assessed using particulate matter from the EPA and roadway exposure measurements.
Researchers found living in areas with more green vegetation was associated with:
lower urinary levels of epinephrine, indicating lower levels of stress;
lower urinary levels of F2-isoprostane, indicating better health (less oxidative stress);
higher capacity to repair blood vessels.
They also found that associations with epinephrine were stronger among women, study participants not taking beta-blockers – which reduce the heart's workload and lower blood pressure – and people who had not previously had a heart attack.
"Our study shows that living in a neighborhood dense with trees, bushes and other green vegetation may be good for the health of your heart and blood vessels," said Aruni Bhatnagar, Ph.D., lead study author and professor of medicine and director of the UofL Christina Lee Brown Envirome Institute and the Smith and Lucille Gibson Chair in Medicine. "Indeed, increasing the amount of vegetation in a neighborhood may be an unrecognized environmental influence on cardiovascular health and a potentially significant public health intervention."
The findings were independent of age, sex, ethnicity, smoking status, neighborhood deprivation, use of statin medications and roadway exposure.
Previous studies also have suggested that neighborhood greenspaces are associated with positive effects on overall physical and psychosocial health and well-being, as well as reduced rates of death from cardiovascular and respiratory diseases and improved rates of stroke survival, according to Bhatnagar. However, these reports are largely limited by their reliance on self-reported questionnaires and area-level records and evaluations, Bhatnagar said.
Co-authors of this study are Ray Yeager, Ph.D.; Daniel W. Riggs, M.S.; Natasha DeJarnett, Ph.D.; David J. Tollerud, Ph.D.; Jeffrey Wilson, Ph.D.; Daniel J. Conklin, Ph.D.; Timothy E. O'Toole, Ph.D.; James McCracken, Ph.D.; Pawel Lorkiewicz, Ph.D.; Xie Zhengzhi, Ph.D.; Nagma Zafar, M.D., Ph.D.; Sathya S. Krishnasamy, M.D.; Sanjay Srivastava, Ph.D.; Jordan Finch, M.S.; Rachel J. Keith, Ph.D.; Andrew DeFilippis, M.D.;  Shesh N. Rai, Ph.D. and Gilbert Liu, M.D. Author disclosures are on the manuscript.
The WellPoint Foundation and the National Institute of Environmental Health Sciences of the National Institutes of Health supported the study.
Additional Resources:
Statements and conclusions of study authors published in American Heart Association scientific journals are solely those of the study authors and do not necessarily reflect the association's policy or position. The association makes no representation or guarantee as to their accuracy or reliability. The association receives funding primarily from individuals; foundations and corporations (including pharmaceutical, device manufacturers and other companies) also make donations and fund specific association programs and events. The association has strict policies to prevent these relationships from influencing the science content. Revenues from pharmaceutical and device corporations and health insurance providers are available at http://www.heart.org/corporatefunding. 
About the American Heart Association
The American Heart Association is a leading force for a world of longer, healthier lives. With nearly a century of lifesaving work, the Dallas-based association is dedicated to ensuring equitable health for all. We are a trustworthy source empowering people to improve their heart health, brain health and well-being. We collaborate with numerous organizations and millions of volunteers to fund innovative research, advocate for stronger public health policies, and share lifesaving resources and information. Connect with us on heart.org, Facebook, Twitter or by calling 1-800-AHA-USA1.