EDITOR'S NOTE:  Researchers Aruni Bhatnagar, Ph.D., and Rachel Keith, Ph.D., will be participating in Mayor Greg Fischer's weekly COVID update Tuesday, Nov. 24 at 10 a.m.
LOUISVILLE, Ky. – Coronavirus infections in Metro Louisville likely are far higher than the already spiking rates reported by the health department according to researchers with the Co-Immunity Project at the University of Louisville's Christina Lee Brown Envirome Institute. The latest results from the ongoing research indicate infection rates increased tenfold from September to November, rising from 0.2% to at least 2%.
Between Nov. 9 and 16, researchers at the Center for Predictive Medicine tested samples from 2,800 individuals representing all parts of Jefferson County for both active infection and antibodies, indicating previous infection. From those test results, project researchers estimate that during these dates, 1 in 50 Louisville residents were infected and that the rates of infection were nearly five times higher than the publicly reported number of cases, estimated at 0.4% of the population.
"At this rate, as many as 13,000 Louisville residents likely are infected today, many of them asymptomatic and who unwittingly may be spreading the virus," said Aruni Bhatnagar, Ph.D., director of the institute. "These rates are startling and should make every person living in Louisville re-evaluate their personal precautions to avoid coronavirus, especially as we approach the holidays."
Other key findings from the project's latest round of testing:
Antibody testing indicates a 150% increase in antibody presence compared to documented cases.
Nearly 13,000 Louisville residents likely were infected between September and November.
About 45,000 people in Louisville likely have had a coronavirus infection at some point since the beginning of the pandemic based on antibody testing.
Shively and Northeastern Jefferson County currently show the highest rates of infection in the city.
Benefits of representative sampling
The Co-Immunity Project is a series of studies to estimate the true prevalence of SARS-CoV-2, the virus causing COVID-19, in Jefferson County. This phase of the project involves testing a representative sample of individuals from different areas in the city in proportion to the age and race of the population of the area. Researchers say this approach provides a more reliable estimate of the breadth and spread of coronavirus infection in different parts of the city than testing only those who have reason to believe they may have the virus. The team tested its first community sample in June, a second in September and the most recent in November.
In addition to the 2% infection rate among randomized participants, individuals who participated without an invitation showed a 3.3% rate of infection. This is higher than the random sampling because individuals self-selecting for testing are more likely to have been exposed to the virus.
"Most of the individuals we identified as having coronavirus infection did not have overt symptoms, which indicates that a large number of cases are likely to remain undetected," said Rachel Keith, Ph.D., assistant professor of environmental medicine at UofL, who conducted the study. "We do not know for sure, but it seems likely that the recent increase in infections may be in part due to asymptomatic individuals."
The project also tested for antibodies against the virus and found a one-and-a-half-fold increase in the number of individuals who previously had been exposed to the virus. Study researchers estimate that by Nov. 20, more than 45,000 individuals had been infected by the virus, rather than the 20,500 known cases documented so far. These data also suggest that approximately 15,000 individuals became infected between September and November.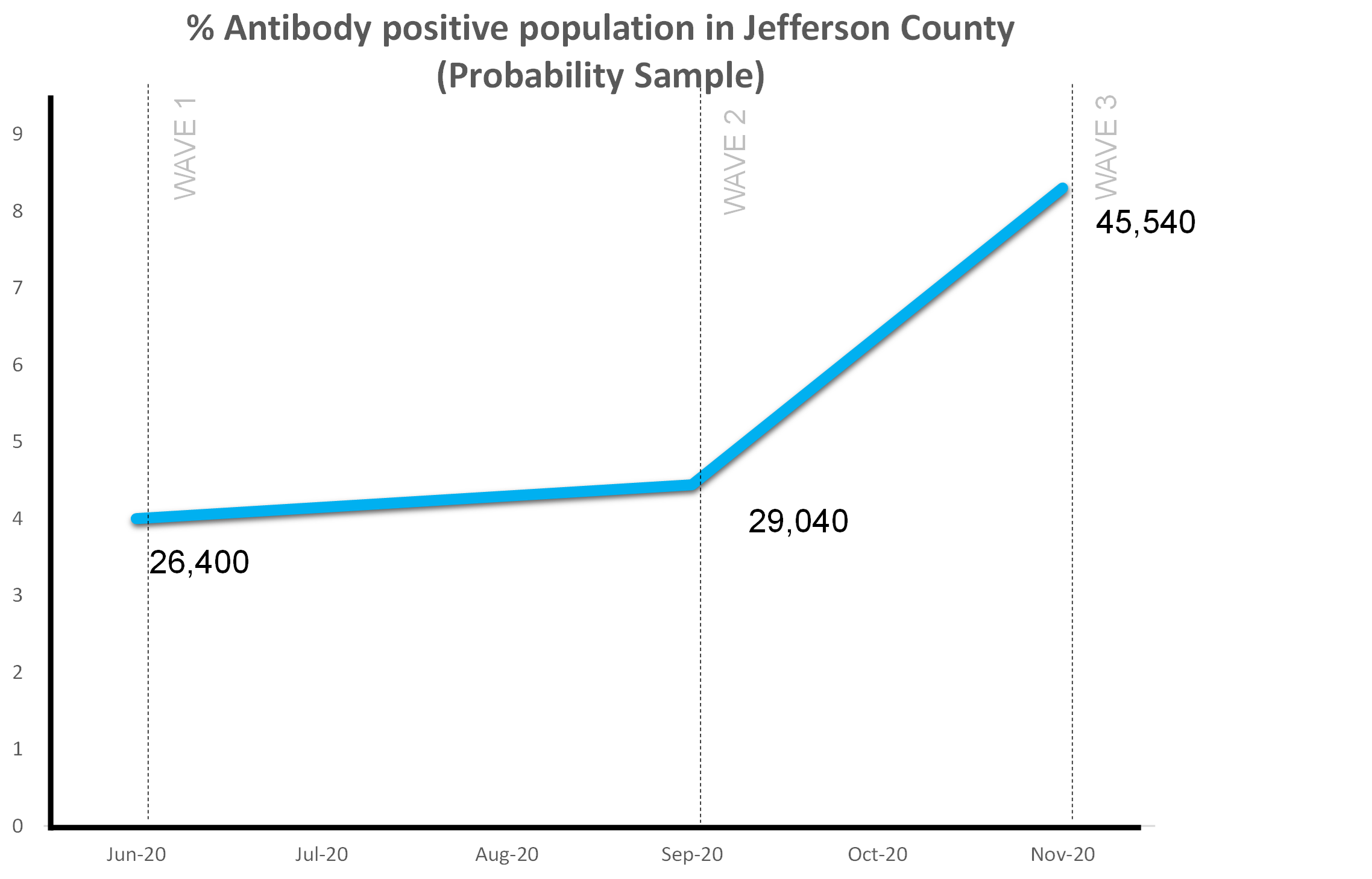 "One reason for the recent increase in coronavirus infection may be the recent drop in temperature," Bhatnagar said. "Our analysis of data from 55 countries shows that low temperatures promote the spread of the virus. Hence, we were expecting the rates of infection to rise in winter, but this increase is much more than we thought.
"Unfortunately, things are likely to get much worse in the coming months as temperatures dip even further. Therefore, we urgently need collective action, maybe just for a few months more. An effective vaccine is on the horizon so it seems that there is clear hope ahead that might hearten us to make the necessary sacrifices for a little longer."
In an effort to obtain a uniform sample of city residents, investigators at the institute mailed 30,000 letters to households across Louisville for the November round of testing. The invitations were sent to individuals selected using addresses derived from U.S. Census Bureau tract boundaries in proportion to the total population in each geographic area.
In addition, any adult resident of Jefferson County was invited to participate through news and social media messages.
A total of 2,800 individuals were tested, 1,091 in response to the invitations and an additional 1,709 who booked their own appointments. The testing took place at 10 community drive-up or walk-up locations. Participants were tested both for the presence of the virus in participants' nasal swabs and for antibodies against the virus in their blood, indicating a previous infection. Samples were analyzed at UofL's Regional Biocontainment Laboratory (RBL) by assistant professor Krystal Hamorsky, Ph.D., and Amanda Lasnik, M.S., at the Center for Predictive Medicine for Biodefense and Emerging Infectious Diseases.
The random sampling of different neighborhoods also allowed the team to identify areas with higher prevalence of infection. Although infections were spread throughout the county, the highest rates were in the Shively area as well as northeastern Jefferson County.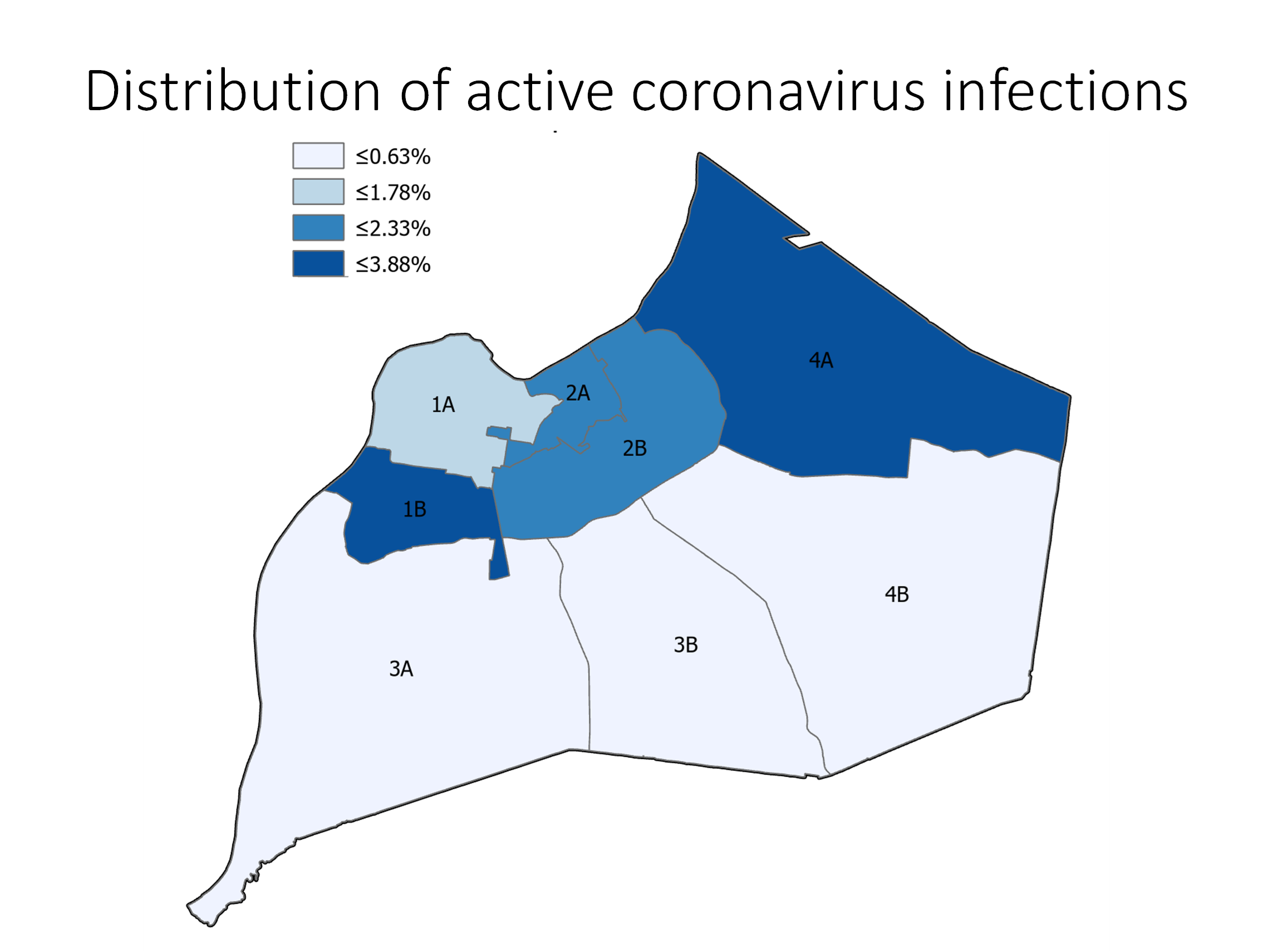 The researchers are planning to conduct a fourth round of randomized coronavirus testing in Jefferson County Dec. 9-14.
This study was supported in part by the City of Louisville, the James Graham Brown Foundation, the Owsley Brown Family Foundation, Foundation for a Healthy Kentucky and others.
#WeAreUofL