LOUISVILLE, Ky. – Jelani Kerr, Ph.D., M.S.P.H., assistant professor, Department of Health Promotion and Behavioral Sciences in the University of Louisville School of Public Health and Information Sciences, is one of 20 researchers selected for the national Cyber Mentors program, funded by the National Institute of Mental Health and administered through the American Psychological Association.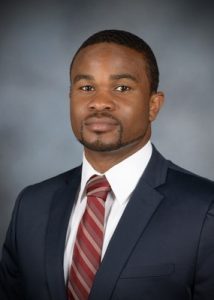 "I'm very excited to participate in the Cyber Mentors program, as it provides a wonderful opportunity to learn and grow as an early-career researcher," said Kerr, who joined the UofL faculty in 2014.
The initiative is designed to advance the research careers of behavioral and social scientists who examine HIV/AIDS and health disparities among people of color and other communities disproportionately affected by the virus. The program matches protégés with senior researchers who are leaders in the field of HIV/AIDS research and have received National Institutes of Health-supported grants.
The two-year program involves e-collaboration and distance learning to help protégés achieve three goals:
·       Develop and implement a career development plan
·       Submit a research application to an appropriate funding source
·       Establish a supportive professional network with common research interests
Kerr's mentor, University of Alabama at Birmingham Professor of Health Care Organization and Policy Janet Turan, Ph.D., M.P.H., conducts research on HIV-related stigma among various populations both domestically and internationally.
Kerr has served as co-investigator on a number of grants, including four from the Canadian Institute for Health Research. His research focuses on sexual health and HIV/AIDS disparities of racial/ethnic minority youth. In particular, he investigates the individual and structural factors that affect sexual health, and how these translate into increased HIV risk. He also examines primary and secondary care-engagement behaviors for individuals living with HIV/AIDS. As a result of his findings, Kerr works with youth and community-based agencies to improve health outcomes and reduce inequities.
He most recently published a study in the Archives of Sexual Behavior, a publication of the International Academy of Sex Research. The research investigated partner selection and sexual networking as potential contributors to HIV vulnerability.
A 2009 PhD graduate of the University of South Carolina Arnold School of Public Health in the discipline of Health Promotion, Education & Behavior, Kerr is a member of the American Public Health Association and its Black Caucus of Health Workers.