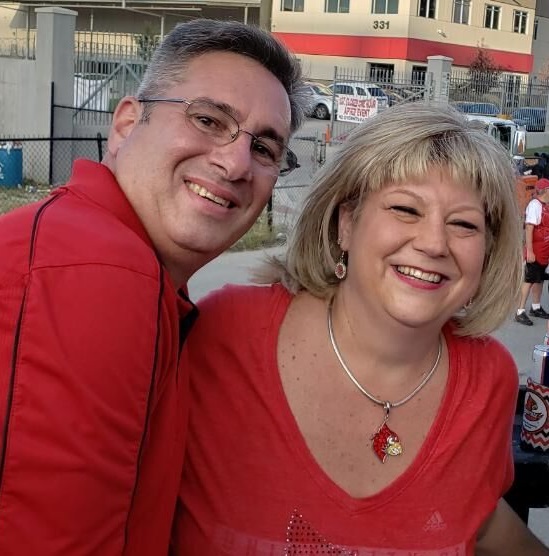 LOUISVILLE, Ky. – For nine years, a mammogram was part of Leigh Rae Kmiec's annual visit to the Kentucky State Fair. Beginning when she was 40, the age most women should begin having annual mammograms, she visited the University of Louisville James Graham Brown Cancer Center's mobile screening unit in the fair's health area each August.
In 2017, her mammogram at the fair revealed she had breast cancer.
"Hearing the 'C' word, I felt like my life was coming to an end," Kmiec said.
However, since her cancer was detected early, she has been treated successfully with a lumpectomy followed by chemotherapy and radiation. After finishing her treatment, Kmiec celebrated with a week-long 50th birthday celebration at the beach.
"We had a lot to celebrate that year. It meant so much more and I realized how lucky I am," Kmiec said.
Visitors to the 2019 Kentucky State Fair this month also will have the opportunity to have a mammogram from 9 a.m. –  5 p.m. daily in the booth hosted by UofL Hospital, UofL James Graham Brown Cancer Center, UofL Physicians and the Kentucky Cancer Program in the Health Horizons area, located in South Wing B. The booth will feature the mobile cancer screening van as well as other health screenings and educational presentations and information throughout the fair, which runs August 15 – 25.
In addition to mammograms, fairgoers will have the chance to receive screenings for prostate cancer, colon cancer, head and neck cancer, lung cancer, hepatitis C, stroke risk and blood pressure during specified days and times. Health professionals from UofL also will provide education on "stop the bleed," prenatal care, antibiotic use and more. See the descriptions below or go to University of Louisville Hospital for more information and the complete schedule of events.
The fair might be a fun and unique place to have a mammogram, but wherever they have it done, Kmiec wants to encourage women to have their screening.
"Get your mammogram no matter what," she said. "It's not comfy, but it sure can save your life."
HEALTH SERVICES AVAILABLE AT THE KENTUCKY STATE FAIR, AUG. 15-25
Some of the services are free, while others require insurance, so visitors are encouraged to bring their insurance card and a photo ID.
Mammogram screenings for breast cancer
Daily, 9 a.m. – 5 p.m.
For more than 25 years, the UofL Brown Cancer Center mobile cancer screening van has been removing access barriers by reaching women in their community, church, school, place of business – and at the Kentucky State Fair, providing screening mammography and saving lives.
To qualify for a screening mammogram on the mobile unit, a woman must:
Be 40 years of age or older
Have a physician to whom the results can be sent
NOT have any current breast problems
NOT be pregnant or breastfeeding
NOT have breast implants
NOT have had a mammogram in the last 12 months
We accept insurance – but you must have your insurance card and photo ID.
For women 40 and older, yearly mammograms are covered by Medicare and most insurance companies. Special discounted rates are available to those without insurance.
Prostate cancer screenings
Aug. 15 –Aug. 18 and Aug. 24, 9 a.m. – 6 p.m.
For men with average risk, screening is recommended starting at age 50.  If you are African American or have a brother, father or son who had prostate cancer before the age of 65, you should start screening at 45. Talk with your doctor about the pros and cons of prostate cancer testing.
Testing will involve a prostate specific antigen blood test (PSA), which involves taking a small sample of blood, and a digital rectal exam performed by a physician to feel for any lumps, bumps or abnormalities.  The results of the PSA will be mailed to the patient about two weeks after the fair. The entire process will take about 15-20 minutes including completing the paperwork.
Blood pressure screenings
Daily, 9 a.m. – 5 p.m.
UofL Hospital Hepatitis C Center
Aug. 22, 9 a.m. – 4 p.m.
Kentucky leads the nation in hepatitis C infections. Chronic hepatitis C infection can lead to cirrhosis, liver cancer, liver failure and death. Thankfully, it can be cured. The HCV screening test is a finger stick that takes 20 minutes to obtain a result. This screening is typically geared to those most at risk: baby boomers (born between 1945-1965), anyone with current or history of drug use and  those who have received tattoos from unlicensed or unregulated environments. The screening is not indicated for those 14 years and younger or for pregnant women. It's simple and free.
UofL Hospital Center for Women and Infants
Daily, 9 a.m. – 5 p.m.
Our baby-friendly designated Center for Women and Infants will be on hand each day providing education and information. We specialize in both high-risk obstetrics and general maternity services, which makes us the perfect choice for all expecting mothers. Other services include Kangaroo Care, Beautiful Beginnings prenatal classes and a Lactation Center. 
UofL James Graham Brown Cancer Center head and neck cancer screenings
Aug. 16, 9 a.m. – 5 p.m.
UofL James Graham Brown Cancer Center offers the latest treatment and clinical trials for patients with oral, head and neck cancer. The exam is painless and only takes a few minutes. During this exam the doctor will inspect your face, neck, lips and mouth for unusual lumps, swelling, abnormal color or texture, and red and/or white patches. If you wear dentures, you will be asked to remove these during the exam. The exam takes about 10 minutes.
Colon Cancer education and screenings
Aug. 19-23 and Aug. 25, 9 a.m. – 5 p.m.
Anyone over the age of 50 who has not had a colonoscopy within the last 10 years or a stool test in the last year may receive a free, take-home testing kit for colon cancer. Kits also will be provided for people younger than 50 or if they are at high risk, such as having a history of cancer themselves or in close family members. The participant will complete the stool collection at home and then send it to the hospital in special packaging provided for testing. The screening process is explained after all paper work is completed. The entire process will take 15-20 minutes. Test kits are free.
Lung Cancer education and screening
Aug. 19-23 and Aug. 25, 9 a.m. – 5 p.m.
The carbon monoxide (CO) breath test shows the amount of carbon monoxide in the lungs and blood. This is an indirect, non-invasive measure of blood carboxyhemoglobin, which is the level of CO in your blood. Breath CO also acts as an indicator of the levels of some 7000 toxic substances present in cigarette smoke, approximately 69 of which are known to cause cancer. Those interested in this screening will be asked to blow into a small handheld device for several seconds. Results are immediate.
UofL Hospital Comprehensive Stroke Center
Aug. 20 and Aug. 24, 9 a.m. – 5 p.m.
As the first certified Comprehensive Stroke Center in Kentucky, the UofL Hospital Stroke Center is committed to providing education on the warning signs and risk factors for stroke. We will offer free blood pressure screenings and stroke risk assessments as well as other information and education about stroke.
UofL Physicians – Family Medicine
Aug. 15, Aug. 21-22, 9 a.m. – 5 p.m.
Experts from our Family Medicine practice will provide blood pressure screenings and other information. Family medicine is a medical specialty devoted to comprehensive health care for the individual and family across all ages, sexes, diseases and parts of the body. The UofL Physicians – Family Medicine practice treats patients throughout the Louisville community, emphasizing disease prevention and health promotion.
UofL Hospital Trauma Center
Aug. 16-17, Aug. 23, Aug. 25, 9 a.m. – 5 p.m.
As the region's only Level I Trauma Center and the first in the nation, the UofL Hospital Trauma Center is committed to educating our community on trauma prevention. Using recommendations from a nationwide campaign, "Stop the Bleed," we will be educating and empowering individuals on how to act quickly and save lives. A person who is bleeding can die from blood loss within five minutes, making it important that bystanders know how to intervene.
UofL Hospital Infection Control
Aug. 16, 9 a.m. – 5 p.m.
UofL Hospital's Infection Control Department will be providing information on the importance of hand hygiene in preventing the spread of disease, the benefits of getting your annual flu vaccination and information on antibiotic use (when you need them and when you don't). It will be a smorgasbord of infection prevention fun facts!
UofL Hospital Pharmacy Services
Aug. 19, 9 a.m. – 5 p.m.
UofL Hospital Pharmacy Services will provide blood pressure screenings and other information and education.
UofL Hospital Burn Center
Aug. 22, 9 a.m. – 5 p.m.
Visit our experts from the only dedicated burn center in Kentucky to learn about fire and burn safety and prevention.
###