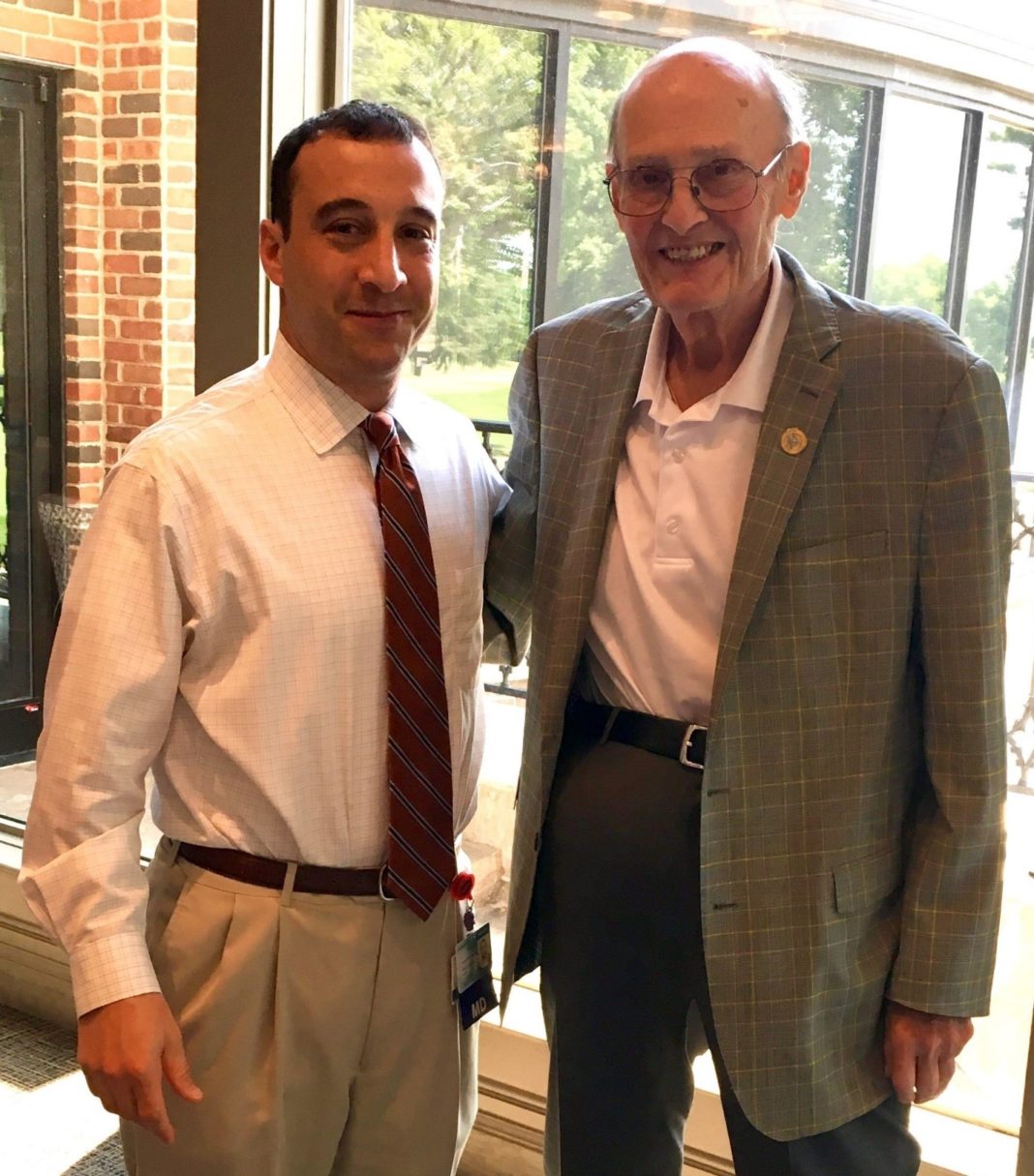 LOUISVILLE, Ky. – A half-million-dollar gift to the laboratory of University of Louisville cardiologist Andrew DeFilippis, M.D., by the late James Ryan will aid in research into biomarkers for cardiovascular disease.
The $500,000 gift to the Division of Cardiovascular Medicine at the UofL School of Medicine establishes the James Ryan Fund for Cardiovascular Biomarker Research. Ryan pledged the gift before he passed away at age 81 in 2018.
"Thanks to Jim, we can help physicians everywhere in diagnosing what is one of the most common causes of death in the world," DeFilippis said. "He was always interested in others and what their dreams were, their goals in life, their happiness and how he could help."
The fund will support annual operating expenses for the research led by DeFilippis, who is director of Cardiovascular Disease Prevention and an associate professor in cardiovascular medicine at UofL. DeFilippis is an expert in cardiovascular diseases and cardiac intensive care. His research focuses on cardiovascular risk prediction and the identification of biomarkers that will allow physicians to diagnose the cause of different types of heart attacks, also called myocardial infarction.
A heart attack is death of heart muscle. There are many causes, including the most well-recognized that occurs when one of the heart's coronary arteries is suddenly blocked or has very slow blood flow secondary to the formation of a blood clot.
Atherosclerotic cardiovascular disease progresses over time, allowing time for screening and early detection. Advances in biomarker research and other developments have led to more sensitive screening methods and a greater emphasis on early detection and diagnosis.
"We're working to develop biomarkers that will allow clinicians to differentiate among the many different types of heart attacks that can occur," DeFilippis said. "Not all are the same, and even in the medical community that's not always given much thought. But if we can differentiate, it will help us better treat patients, allowing us to limit or stop heart damage."
A biomarker is a biological characteristic that can be measured and evaluated as an indicator of normal biological or pathological processes or a response to a therapeutic intervention. Examples include patterns of gene expression, levels of a particular protein in body fluids or changes in electrical activity in the heart.
Ryan, an active philanthropist and retired insurance executive, suffered from a heart condition himself. A native of Pittsburgh who graduated from UofL and lived most of his life in Louisville, he was on a quest to ensure his estate went to good use. He and DeFilippis forged a friendship through their activities with the American Heart Association. He visited DeFilippis' lab within the Division of Cardiovascular Medicine several times, even bringing a group of friends.
"He was really involved – he was more than a donor," DeFilippis said. "He gave advice and offered assistance in business, enabling us to partner with industry to bring our discoveries to market. We really enjoyed his company. The two of us went to lunch several times and talked about lots of things – the lab, his struggles with congestive heart failure and his bucket list. He had a great sense of humor.
"He was an extraordinarily happy man with a deep voice that was very distinctive," DeFilippis said. "We will certainly miss his presence and his inspiring words about the work we were doing. We take it as a tremendous compliment that he chose to donate to us. Jim was looking for a quality program, great ideas and things that really make sense to improve the health of world."
DeFilippis and one of his colleagues, Patrick Trainor, Ph.D., recently were invited editorialists for a new study published in the Annals of Internal Medicine that indicates current risk calculators for heart attack and stroke can sometimes be wrong, significantly overestimating some people's risk while underestimating others' risk. As a result, many people may be unnecessarily taking medication to control risk factors such as high cholesterol and high blood pressure, and others may not be getting enough treatment. The researchers developed a new risk calculation method with a more sophisticated statistical model and newer population data, suggesting it could be more accurate.
#WeAreUofL