LOUISVILLE, Ky. – Nearly 3,000 children at six Jefferson County Public Schools on Feb. 3, learned about the importance of proper dental hygiene, and many received a free dental screening through the efforts of the University of Louisville School Dentistry, Aetna Better Health of Kentucky, Anthem Blue Cross and Blue Shield Medicaid, Avēsis Incorporated, a Guardian Company, Colgate Bright Smiles Bright Futures, DentaQuest, Louisville Dental Society, Louisville Water Company, Smile Kentucky! and Subway, D.T. – Franchisee.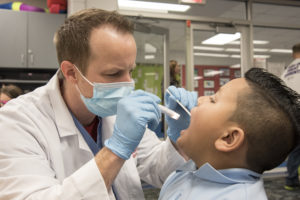 Nearly one in four children under the age of five already has cavities, according to the U.S. Centers for Disease Control and Prevention. This initiative reaches many underserved children in the community, and is part of the American Dental Association's Give Kids a Smile Day, hosted during National Children's Dental Health month.
"We are committed to helping improve the health of Kentucky's children. Community engagement is at the heart of this dental school, and that's why we close our clinics for the day to travel into the community to offer free screenings and teach kids about dental health," said T. Gerard Bradley, B.D.S., M.S., Dr.Med.Dent., dean of the UofL School of Dentistry.
"Good dental care is vital to our students' overall well-being and confidence, key elements in them coming to school happy, healthy and ready to learn," said Jefferson County Public Schools Superintendent Donna Hargens, Ed.D. "We're excited to partner with the University of Louisville School of Dentistry and other community collaborators on this important health initiative."
About 200 UofL dental and dental hygiene students, faculty and staff, along with community volunteers visited Bates, Cane Run, Camp Taylor, Maupin, Roosevelt Perry and Rutherford Elementary schools. Dental students and faculty screened children for signs of dental decay and cavities, and notified parents or legal guardians about the findings. These oral health evaluations also meet the Kentucky dental screening requirement for school entry. Dental hygiene students explained how to properly brush and floss, and talked with children about the importance of visiting a dentist and how to make healthy snack and drink choices.
Children left school with a goody bag complete with a toothbrush, dental floss and dental health educational materials. Parents and legal guardians are encouraged to find a dental home for their children where they can receive complete dental care from check-ups to fillings. UofL's pediatric dentistry division is accepting new patients. Call 502-852-5642 for more information or visit http://louisville.edu/dentistry/patient-care.