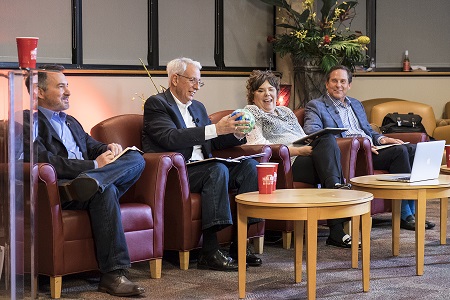 LOUISVILLE, Ky. – The University of Louisville College of Business gets a starring role in the second season of WBNA21's local television series for would-be entrepreneurs, "Dream Funders."
Filmed at the College of Business, the second season debuts Nov. 30 at 8 p.m. and will have a total of 13 episodes. It includes analysis from the college's Van Clouse, chair of the Forcht Center for Entrepreneurship; Suzanne Bergmeister, entrepreneur-in-residence and chair of the Venture Connectors entrepreneur and investor forum; and Colton Payne, entrepreneurship MBA student and president of the UofL Entrepreneurship Club.
The "Shark Tank"-style series matches local entrepreneurs with angel investors and business professionals. Fourteen entrepreneurs presented their ideas during two nights of filming in the college's Drummond Executive Center in October. Among those to be featured on the show are a current UofL MBA student, a former UofL MBA student, a teacher, a single mother, a father-son team and a group of high school students from the Governor's School for Entrepreneurs.
The program is sponsored by Papa John's International and hosted by Melissa Fraser, partner at Strothman and Company CPAs, and produced by BMB Productions and WBNA21. The program is seeking dreamers: For more information on applying to be on the show, visit the website at www.LouisvilleDreamFunders.com.
###