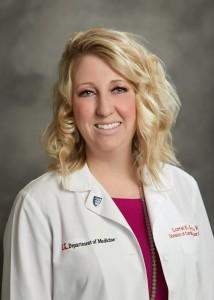 It stands to reason: If you want to educate large numbers of people, go where large numbers of people go.
In Dr. Lorrel E. Brown's case, that place was the Kentucky State Fair – and the nation's premier cardiology association has presented her an award for her innovative thinking.
Brown, assistant professor of medicine in UofL's Division of Cardiovascular Medicine, won first place in the category of "Young Investigator Awards in Cardiovascular Health Outcomes and Population Genetics" from the American College of Cardiology earlier this month. The award was presented at the organization's 65th Annual Scientific Session in Chicago. It also was published in the April 5 issue of the Journal of the American College of Cardiology.
Brown headed a group of researchers that included Dr. Glenn Hirsch, associate professor of medicine, cardiology fellows Dr. Wendy Bottinor and Dr. Avnish Tripathi, medical student Travis Carroll, Dr. Bill Dillon who founded the organization Start the Heart Foundation and Chris Lokits  of Louisville Metro Emergency Medical Services, Office of Medical Direction and Oversight. They tackled the problem of surviving cardiac arrest – the sudden stopping of the heart – by increasing the number of people trained in hands-only cardiopulmonary resuscitation (CPR).
Titled "CPR at the State Fair: A 10-minute Training Session is Effective in Teaching Bystander CPR to Members of At-risk Communities," the research effort brought CPR training to the Kentucky State Fair's Health Pavilion in August 2015.
Nearly 400,000 people in the United States have out-of-hospital cardiac arrest each year, she said, or nearly 40 people every hour. Only one in 10 survives.
"The vast majority of people who suffer cardiac arrest don't experience it in a well-equipped hospital with highly trained medical staff," Brown said. "They experience it as they go about their daily lives, and just 30 percent of cardiac arrest victims receive CPR, usually from bystanders. Yet we know that bystander CPR dramatically improves chances for survival."
The group created a 10-minute training module that uses a short video and hands-on coaching to teach people the basics of hands-only CPR. To further determine their mastery of CPR, participants completed a post-training survey and were asked to return to the training site at the fair one hour after training to re-test their CPR ability.
The state fair location also provided an additional benefit: the ability to reach people from communities and counties throughout Kentucky with low rates of bystander CPR.
"In Jefferson County alone, bystander CPR rates vary dramatically according to zip code, ranging from 0 percent to 100 percent," Brown said. "We know there is the same variation throughout the state, and 77 percent of the Jefferson County residents we trained at the fair were from zip code areas with bystander CPR rates under the national average of 31 percent.
Since the 2015 fair, Brown has led efforts to conduct bystander CPR training at other locations. "Through the Take It to the Heart tour with KentuckyOne Health, we provided this training in hospital lobbies throughout the state, at UofL women's and men's basketball games and even at the Capitol in Frankfort with the Kentucky Senate," she said. "Through these efforts, we have trained more than 1,000 individuals in CPR and educated another 43,000. We hope that these efforts not only raise the rates of bystander CPR and survival from cardiac arrest in our own communities, but also serve as a model for other communities."
Brown will bring the training back to the Kentucky State Fair again this year. "These results suggest that by providing brief trainings in public venues, such as the state fair, we can effectively train people and potentially improve the rate of bystander CPR in this country," she said.
Organizations or businesses also can schedule their own bystander CPR training session via the Start The Heart Foundation, for which Brown serves as a board member, by calling 502-852-1837.
###
About the Young Investigator Awards
The American College of Cardiology's Young Investigator Awards encourages and recognizes young scientific investigators of promise. To be considered for a Young Investigator Award, candidates submitted an abstract summarizing any problem relating to cardiovascular disease. Five finalists were selected in each of four award categories and invited to attend the Scientific Session to present their work during the Young Investigator Awards Competition.
About the American College of Cardiology
The American College of Cardiology is a 52,000-member medical society that is the professional home for cardiovascular care physicians. The mission of the college is to transform cardiovascular care and to improve heart health. The college operates national registries to measure and improve care, offers cardiovascular accreditation to hospitals and institutions, provides professional medical education, disseminates cardiovascular research and bestows credentials upon cardiovascular specialists who meet stringent qualifications.