LOUISVILLE, Ky. – The steady increase of coronavirus infections throughout Jefferson County has been confirmed by a new round of testing by the Co-Immunity Project. The recent testing shows a higher-than-reported increase among residents of South Louisville. The latest results from the Co-Immunity Project at the University of Louisville's Christina Lee Brown Envirome Institute indicate infection rates have more than doubled in 20 days, showing the highest rates of infection reported so far.
From December 10-14, project researchers tested 700 individuals in South Louisville for both active infection and antibodies, indicating previous infection, to develop a "snapshot" of the rates of infection in that area of the county. From those test results, the researchers estimate that as of these dates, nearly 11.16% of South Louisville residents have been exposed to the virus.  Extending this estimate to all of Jefferson County would mean that nearly 73,636 individuals (1 in 10) have been infected with SARS-CoV-2 since the beginning of the pandemic. 
"The latest rates are the highest we have seen since we began testing in June and are higher than we had expected based on our previous testing drives," said Aruni Bhatnagar, Ph.D., director of the UofL Christina Lee Brown Envirome Institute. "These rates show that the pandemic continues to grow at an accelerated rate. Indeed, it is likely to get worse before getting better."
Key findings from the project's latest round of testing:
About 3.57% of those tested had an active coronavirus infection.
Antibody testing indicates that the true rates of infection may be 1.6 times higher than reported in publicly available data.
More than 28,000 Louisville residents may have been infected between November and December.
About 73,000 people in Louisville likely have had a coronavirus infection at some point since the beginning of the pandemic, based on antibody testing.
The highest rates of infection in December were found in people 18-34 years of age (10%), which was four times higher than those 35-59 years of age (2.6%).
Women and men had similar rates of infection.
Current rates of infection were much higher among non-whites (8.8%) than among whites (1.43%). To-date, nearly twice as many non-whites as whites have been infected by the virus.
The Co-Immunity Project is a unique series of studies to estimate the true prevalence of SARS-CoV-2, the virus causing COVID-19, in Jefferson County. This phase of the project involves testing a representative sample of individuals from different areas in the city in proportion to the age and race of the population of the area. For this round of testing, the project researchers tested individuals living in South Louisville neighborhoods that are part of Green Heart Louisville, a separate, ongoing project to test whether increasing green space in a neighborhood improves air quality and human health.
Data released today for the December tests show at least 3.57% of participants from the area were currently infected by the virus, which is nearly double the rate reported for the entire County in November (2%).
The project researchers with the UofL Center for Predictive Medicine, directed by Kenneth Palmer, Ph.D., also tested samples from the participants for antibodies against the virus and found a 1.6-fold increase in the number of individuals who previously had been exposed to the virus. Study researchers estimate that by December 14, about 73,000 individuals had been infected by the virus rather than the 48,228 known cases documented so far. These data also suggest that approximately 15,000 individuals became infected between November and December.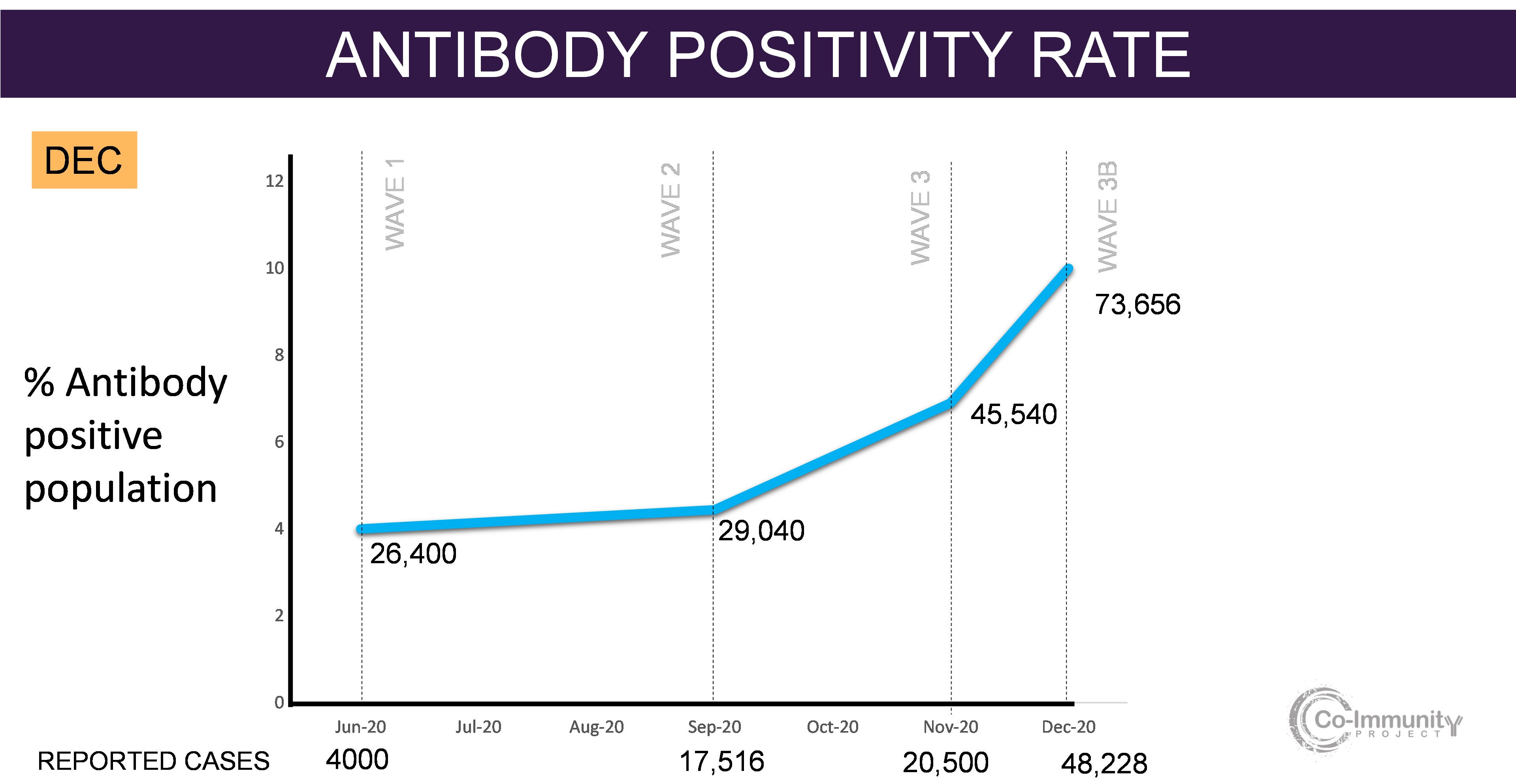 "Reasons for the increase in the rates of infection are not clear, but may relate to a drop in temperature," Bhatnagar said. "From our previous work we know that lower temperatures facilitate the spread of the virus. However, part of the reason may also be fewer precautions by young people and increased travel during the Thanksgiving holiday."
Bhatnagar said he expects infection levels to continue to rise due to colder weather temperatures.
"Our models suggest that infection rates likely will continue increasing at least until the end of December and that things are likely to get much worse in the coming months as temperatures dip even further," he said. "We are entering the most dangerous and deadly phase of the pandemic and we have to maintain high vigilance for at least the next two months until the temperatures begin to rise again or a large number of individuals are vaccinated."
"In what may be a glimmer of hope, we have seen a consistently increasing awareness of the importance of repeated COVID-19 testing among the residents of Jefferson County, especially the South Louisville area where there was a robust push for testing and awareness by the local community members," said Alok Amraotkar, M.D., M.P.H., a postdoctoral research fellow in the Envirome Institute who conducted the study. "We will keep building on these relationships with the community to curb the spread of COVID-19 virus."
In an effort to obtain a uniform sample of residents, investigators at the Brown Envirome Institute mailed 20,000 letters to households across the study area. The invitations were sent to individuals selected using addresses derived from U.S. Census Bureau tract boundaries. In addition, any adult resident of the area was invited to participate through news, emails and social media messages.
Nearly 1,000 individuals were tested, 700 of whom live in the Green Heart Louisville study area. The testing took place at community drive-up or walk up locations. Participants were tested both for the presence of the virus via nasal swabs, indicating current infection, and for antibodies against the virus in their blood, indicating a previous infection. Samples for the virus were tested by Bluewater Diagnostic Laboratory and antibodies were measured at UofL's Regional Biocontainment Laboratory by the Center for Predictive Medicine for Biodefense and Emerging Infectious Diseases.
Wastewater monitoring results reinforce findings
The Co-Immunity Project also has been monitoring the presence of SARS-CoV-2 in Louisville wastewater in collaboration with MSD since June.  During this round of community testing, daily wastewater samples were gathered from seven manhole locations within the study area. All locations revealed daily presence of the virus at levels consistent with those found across Louisville in this time period. These levels are ten times higher than area levels just six weeks ago.
The researchers are planning to conduct a fourth round of randomized coronavirus testing in Jefferson County January 22-28.
This study was supported in part by the City of Louisville, the James Graham Brown Foundation, the Owsley Brown Family Foundation, Foundation for a Healthy Kentucky, the Jewish Heritage Fund for Excellence and others.
#WeAreUofL