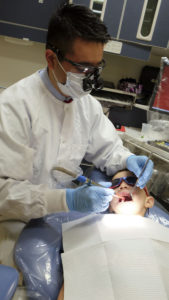 LOUISVILLE, Ky. – As children prepare for the start of a new school year, a dental exam should be on the to-do list. For children entering Kindergarten, Kentucky law requires at least a basic dental screening. 
Regular dental examinations are important to diagnose and treat or prevent oral health problems. A dentist may suggest fluoride treatments or sealants to prevent decay. It's also a good idea for parents to talk with their child's dentist about properly fitted mouth guards to prevent injuries during organized sports.
If a problem is observed during an exam and a dentist needs to fill a cavity or pull a tooth, the University of Louisville School of Dentistry is equipped to help children who experience anxiety.
Hector Martinez, D.D.S., M.Sc., vice-chair, UofL School of Dentistry Department of Orthodontics, Pediatric Dentistry and Special Care, says that if parents are concerned about their children becoming anxious during treatment, a dentist can administer nitrous oxide, commonly known as laughing gas.
"Parents should understand that nitrous oxide is very safe – it does not put a child to sleep, but it will relax them so the dental professional can complete the work necessary," Martinez said. "We place a small mask over the child's nose, and then we administer oxygen into the mask at the end of the dental procedure to help the child quickly come back to a normal state." 
The School of Dentistry also offers laser technology that makes many procedures less complicated for patients. As water and light meet, a combustion occurs allowing a laser beam to cut gums or teeth, with minimal bleeding that is immediately cauterized. 
Unlike the typical scalpel and stitches for many procedures, the laser involves little to no pain so anesthesia is not necessary. The technology can be used to cut soft tissue such as the tissue under the tongue for a child experiencing what is commonly known as tongue-tied. The laser also can be used to remove part of the gum prior to orthodontic treatment in order to place brackets. In addition, the dentist can use a laser to restore a tooth without a drill – this includes a tooth with a cavity.
"We are one of a few offices in Kentucky with this type of water-laser technology, and it is available to use with any child who becomes a patient of the UofL School of Dentistry," Martinez said. 
To schedule an appointment for a child at the School of Dentistry, call 502-852-5642.