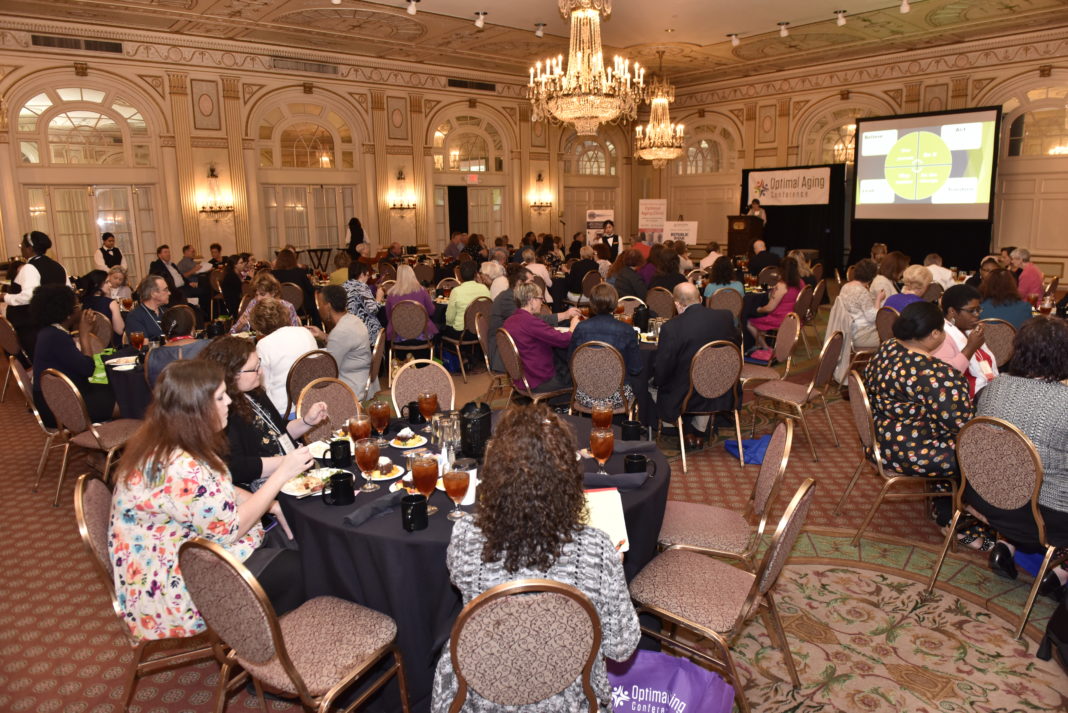 With an emphasis on interdisciplinary approaches, the 2020 Optimal Aging Conference offers unique educational and networking opportunities for health care, social service and technology professionals, alongside older adults and their caregivers.
The conference, now in its fourth year, will feature experts in aging, dementia and Alzheimer's research, innovation and public health. The University of Louisville Trager Institute and the Kentucky Association for Gerontology are hosting the conference April 19-21 at the Brown Hotel, 335 W. Broadway, in Louisville.
"We are thrilled to present such a strong line-up of speakers," said Anna Faul, PhD, executive director of the University of Louisville Trager Institute. "The presenters, along with our breakout and poster sessions, will provide an incredibly rich and engaging experience for anyone working in the aging field or who has interest in inspiring our understanding of aging," she said.
2020 Optimal Aging Conference Topics and Speakers:
Aging Inspired in Kentucky: Directions in Aging Policy (Panel Discussion)
Sandy Markwood, national CEO, National Association of Area Agencies on Aging
Eric Friedlander, acting secretary, Kentucky Cabinet for Health & Family Services
LaDonna Koebel, executive director, Office of Senior Protection & Mediation, Kentucky Office of the Attorney General
A Community Network Approach to Health
Eric Feigl-Ding, PhD, chief health economist, MicroClinic International; faculty member, Harvard Medical School and Brigham and Women's Hospital, Boston
Ending the Alzheimer's Pandemic
Dale Bredesen, MD, professor, UCLA; founding president and professor emeritus, Buck Institute for Research on Aging; author of New York Times bestseller, The End of Alzheimer's
AARP Keynote: Words of Wisdom for #Agetech Entrepreneurs
Nigel Smith, MBA, director, Hatchery Ventures, AARP Innovation Labs, Washington, D.C.
Alzheimer's Update
Gregory Jicha, MD, PhD, professor of neurology; director, Sanders-Brown Center on Aging at the University of Kentucky
Guided by the theme "Aging Inspired," conference attendees also will hear from experts on a number of topics including: how to prevent financial elder abuse, national programs and arts activism counteracting ageism, programs for caregivers of persons with Alzheimer's Disease and related dementias, the future impacts of artificial intelligence and robotics in senior care, trauma-informed care of older adults, international evidence-based falls programs, lifestyle medicine nutrition and more.
"The 2020 Optimal Aging Conference provides outstanding resources, inspiring ideas, and continuing education for Kentucky's aging service professionals. The conference is a great opportunity for networking and professional development," said Stacey Watkins, president of the Kentucky Association of Gerontology.
The UofL Trager Institute also will host a mobile workshop for its new Republic Bank Foundation Optimal Aging Clinic. The clinic, located in Louisville's Innovation Corridor, is a one-stop-shop that provides integrated life-long wellness by combining lifestyle and preventative medicine with specialized and acute care. 
Early-bird registration ends March 22. Learn more about registration, keynote speakers, and continuing education online at: https://www.tragerinstitute.org/optimal-aging-conference. Contact Natalie Pope at natalie.pope@louisville.edu for more information.