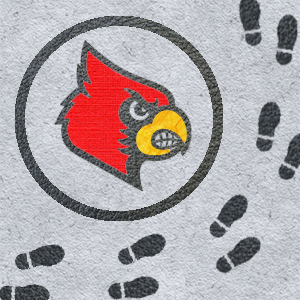 Some traditions around UofL are a given:
Don't step on the Cardinal Bird emblazoned on the sidewalk.
Look fast for the resident albino squirrel.
Some are downright sacrosanct:
Throw your "L" up with your right hand, not your left.
Some are a little weird:
For luck, law students leave animal crackers at the burial site of Justice Louis D. Brandeis.
And some are just fun:
Students break for tasty treats from Dairy Kastle.
These and many other traditions were submitted to the Alumni Relations and Giving Office last week as part of their "UofL Traditions" campaign. The effort is meant to engage young alumni and drive awareness of annual giving.
The online campaign garnered a number of responses from alumni across the country who fondly remember the quirky rituals that make UofL special.
Jenna White, an intern in the Alumni Relations and Annual Giving Office, created the playful art for the campaign and worked with communications staff to bring it to life in a time-lapse video.
Those who submitted a tradition were also encouraged to give back online.
"We're tickled with it. I hope others enjoy these traditions as much as we have," said Lindsay Wehr, director of advancement communications.
Click here to view more traditions.