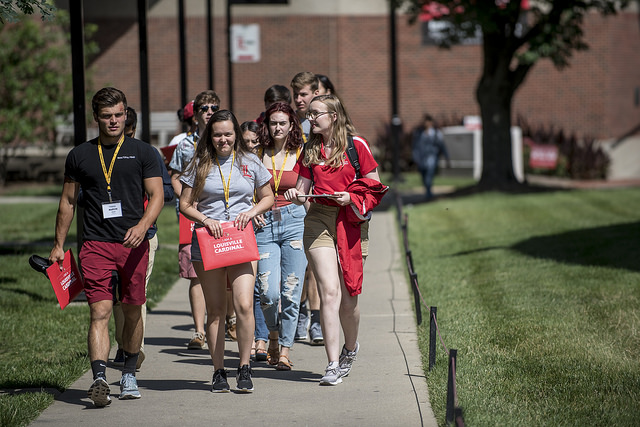 Campus will be abuzz on Monday morning, as incoming freshmen and their families arrive for the first of 12 official orientation sessions scheduled through July 12. 
New Cards Freshman Orientation is a required two-day program, including an on-campus overnight stay, in order to enroll in Fall 2018 classes. Highlights include campus services presentations from financial aid, safety, academic units and more; course registration; a business fair; a session on UofL traditions; and entertainment. The full agenda is available online. 
Toree Parrish, assistant director of admissions, has been overseeing the orientation program for five years and, as a double UofL alum, went through the program herself. She said the admissions team — including a student staff of 28, an office team of three professionals, two student workers and a graduate intern — works on orientation year-round and is already planning sessions for next year's incoming class. 
That doesn't mean she's overlooking this year's program, however. 
"I love working with students in transition. There is so much opportunity for them. They get a fresh start no matter where they're coming from or what they're looking for. College is where they can decide what they want to be for the rest of their lives," Parrish said. 
Orientation helps plant those seeds for them, she adds, introducing them to the appropriate resources, services and people, so students will be ready when classes start in August. 
"Orientation is the time when we take all the muck in the water and balls in the air and find a place for them so when they get here in the fall, they can hit the ground running and focus on being a student," Parrish said. "We're giving them the tools they need to be a successful student as soon as they get here." 
This year, the orientation team is focused on creating a sense of belonging for incoming freshmen. 
"We want every student to understand that this is a place for everyone; you don't have to change who you are to be successful here," Parrish said. "Our fabric is made up of every type of identity and we have a place for you whoever you are." 
To reiterate that theme, the orientation team is encouraging participants to write in a caption that shares their feelings or identities as part of a #WeAreUofL photo project. 
"It will show that our freshman class is diverse, not just with race or gender or identities, but also with feelings and what they're looking for out of their experience," Parrish said. "For example, we will get captions like, 'I am excited' or 'I am nervous,' along with 'I am Latina,' and it will help this class know that the 'we' part in 'we are UofL' is all encompassing."