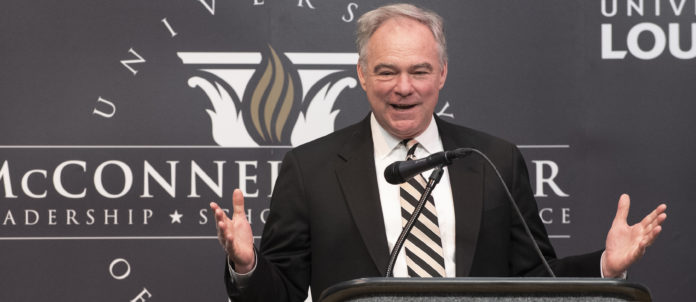 U.S. Senator Tim Kaine (D-Va.), who spoke at UofL Monday as a McConnell Center guest, has been a mayor, governor and senator—one of only 30 Americans in U.S. history to have such experience.
In his address to the campus community, Kaine talked about those roles and leadership lessons he has gleaned during his career.
Kaine said when he learned that only a handful of Americans have served in those three positions, he was surprised. He then joked, "I asked myself why just 30 and suddenly it occurred to me, being mayor will kill you.
"Mayor is probably the toughest—it is the most emotional," he said of his time as Mayor of Richmond (1998-2002). But the job also taught him value of being a present and persistent leader.
"A lot of public service is presence—being with people," he said. "It might be a happy moment but it might be a sad moment. As mayor, you have a way of dignifying the occasion and making people feel better about what they are doing."
After serving as Richmond's mayor and Virginia's lieutenant governor, Kaine was elected to the governor's office in 2006.
"My time as governor was very challenging," Kaine said. "There was the recession—and then a day I can remember as if it were five seconds ago—the shooting of 32 beautiful students and faculty members on the campus of Virginia Tech."
The 2007 tragedy was, at that time, the worst mass shooting by a lone gunman in U.S. history. In the aftermath, Kaine worked to strengthen background checks and make communities safer.
Kaine said the tough economic situation, combined with "wave after wave" of budget cuts, taught him about the importance of making sacrifices, which included cutting his own salary.
"If you are willing as a leader to set an example of sacrifice, what you will find is that people will sacrifice too. That was a powerful, powerful thing," he said.
After his Senate election in 2012, Kaine said he had "some humility lessons" because he was in the company of many talented and experienced senators.
"You walk into the Senate and, hey, you may have been mayor and you may have been governor, but you're 95th in seniority," he said. "My favorite introduction was when somebody introduced me as 'Tim Kaine a humble guy with a lot to be humble about.'"
During his talk, Kaine had praise for public universities, citing his own experience as a graduate of the University of Missouri.
"Had there not been public universities that offered a high quality education at an affordable cost, it would have been very tough," Kaine said. "I applaud this university as a great example of what high quality public education can do."
The McConnell Center's Distinguished Speaker Series brings national figures to the University of Louisville for a series of free, public events.
Watch a video from the event here.