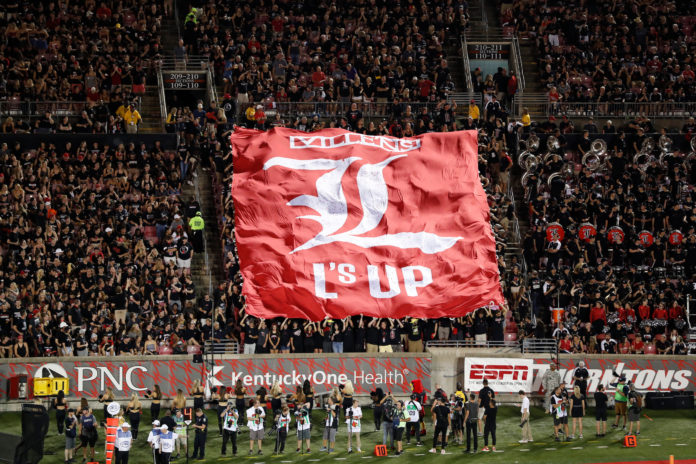 A new Recognized Student Organization was created this fall at UofL, dedicated to making the student section at UofL sports the best in the country.
The mission of the Ville'ns is to "create, reinforce, and enhance the fan experience of Cardinals Athletics." The group's goal is to "create an exhilarating fan atmosphere where students and student-athletes work together toward achieving the common goal of winning championships while exemplifying the tradition of Cardinals pride." 
The Ville'ns serve as spirit leaders during sports games and use banners – like the L's Up flag that was unfurled at Papa John's Cardinal Stadium during the football season – and other promotions to help cheer for UofL's athletes. The Ville'ns can be found at athletic events all over campus and beyond, including at Cardinal Arena cheering on the volleyball team, hanging out at the KFC Yum! Center during basketball season, and even supporting club sports like UofL's hockey team.
"We want Louisville to be the most feared destination on any team's schedule in any sport and until we have that, we're not going to quit," said Jason Wyrick, a senior RSO Sports Administration major and vice president of the Ville'ns.
Membership in the Ville'ns organization is open to anyone with a valid UofL student ID. Students can become a member by attending a general interest meeting. Members are required to attend a certain quota of all UofL games.
"This is the most important time for this," said Ian Kirk, a junior from Lawrenceburg and president of the Ville'ns. "I think everyone loves Louisville but nobody has had the torch to lead the way. We need something to unify us as a school and as a city. The Ville'ns is more than a student section, it's a culture."
In the future, the Ville'ns hope to make busing and transportation available for students to games held off campus. Upcoming promotions at basketball games include a Red Out, a White Out, a Neon Out, and an Ugly Sweater Night to celebrate the holidays. 
More information about the group is available online.