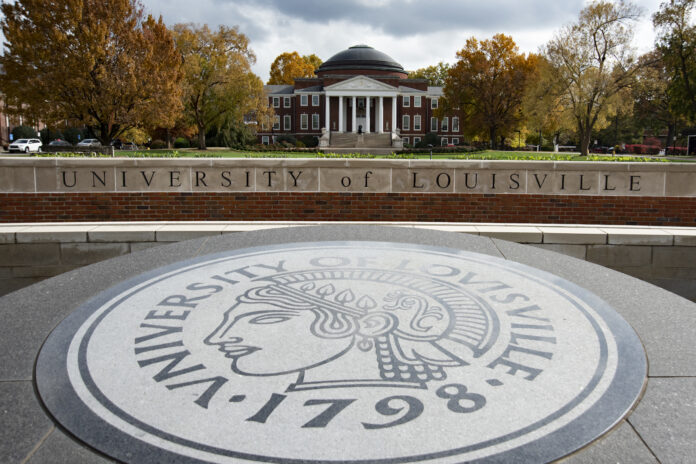 UofL's Faculty Senate met using a hybrid format on Oct. 6, and senators received updated vaccination rates, information on student retention, record-breaking figures in research and innovation funding and the Faculty Grievance Officer's annual report.
Executive Vice President and University Provost Lori Gonzalez provided senators with updated COVID-19 vaccination rates for the university community. As of Oct. 5, 2021, students reported the highest rate of vaccination at 86.1%, followed by 82.7% for staff and 82.1% for faculty at UofL. During the month of October, vaccinated students have the option to enter a drawing for a variety of prizes including priority registration, a blue parking pass, a year of free coffee from the campus Starbucks or a semester of undergraduate tuition.
Gonzalez also addressed enrollment figures. Gonzalez encouraged senators and their constituents to aid in the retention effort by submitting progress reports to identify students in need of academic intervention.
"Last month, I shared that our budget was built on the expectation from the colleges that we would increase our enrollment by 200 students. In fact, we were down 194 students. That means we have 394 less students than our budget was based on," Gonzalez said. "We are working with the colleges to true up those budgets, but there are some things that can happen at the college level to impact retention from fall to spring semester. The main thing faculty members can do is to complete progress reports for students who aren't performing well so that we can start academic intervention efforts."
Executive Vice President of Research & Innovation Kevin Gardner reported that the university received a record breaking $201.5 million in awards during the 2021 fiscal year. Gardner shared additional record-breaking figures from the university's research, innovation and commercialization efforts.
"Our total award volume in 2020 was $170 million and this year, it was $201.5 million," Gardner said. "This fiscal year, we've had 80 patents issued, $27 million in innovation income and 482 other agreements, such as material transfer agreements."
Faculty Grievance Officer Cedric Powell provided the FGO Annual Report to senators. Powell reported that a total of five grievances had been filed from Oct. 1, 2020 to Sept. 1, 2021. Two Type 1 grievances were filed, as well as three Type 2 grievances.
Two grievances were filed from the School of Medicine; however, neither met the jurisdictional requirements for a formal grievance and the complaints were dismissed. Two grievances were filed from the College of Arts and Sciences, and the College of Business and the Louis D. Brandeis School of Law each had one grievance filed. A Type 2 grievance from A&S, a Type 2 grievance from the College of Business and a Type 1 grievance from the School of Law each went forward with the formal process and appeal with the opinion of the Faculty Grievance committee ultimately being affirmed by either President Bendapudi or Provost Gonzalez.
Committee reports and a video recording of the virtual meeting can be accessed on the Faculty Senate meetings webpage. The next Faculty Senate meeting is scheduled for Nov. 3 via a hybrid format with the option of remote attendance via Teams, or in-person attendance at Ekstrom Library's Chao Auditorium.