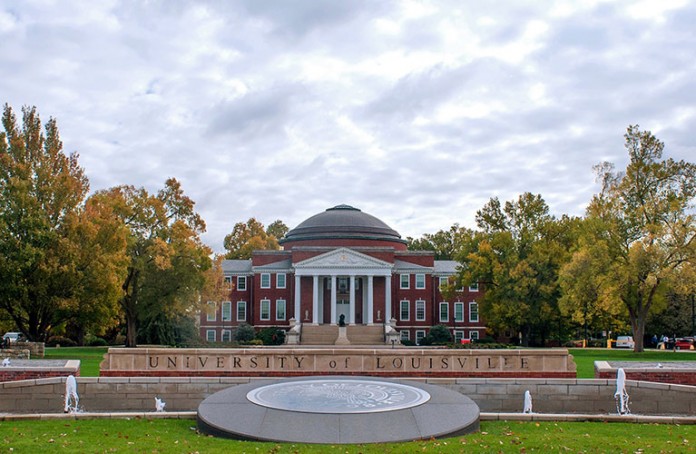 The University of Louisville improved its ranking in the annual U.S. News & World Report "Best Colleges" list, up 16 spots to No. 176 in 2021.
UofL's 2020 ranking was No. 192.
UofL's jump was the third highest among its 17 benchmark institutions, behind University of Illinois-Chicago's 20-spot increase and University of New Mexico's 31-spot increase. Those benchmark institutions are identified by the Council on Postsecondary Education. 
UofL's scores increased in a number of categories, including:
Actual 6-year graduation rate: 59%. This is up from 57% last year and more than 10% from 10 years ago.
Percentage of classes with less than 20 students: 42%. This is nearly double what it was 10 years ago.
Percentage of freshmen students who were in the top 10% of their high school class: 27%. This is up from 11% in 2017.
Also of note, the average alumni giving rate has increased for the first time in two years and now stands at 10%.
The U.S. News and World Report's ranking system is based on two pillars. Schools are categorized according to their mission (as determined by the Carnegie Foundation for the Advancement of Teaching) and 17 indicators of academic excellence. Each factor is assigned a weight that reflects the judgment of U.S. News and World Report about how much a measure matters.   
The "Expert Opinion" score accounts for 20% of the overall ranking and gives significant weight to those in a position to judge a school's undergraduate academic excellence (e.g. presidents, provost and deans of admissions). UofL's rank in this category jumped by 9 points this year, following graduate rate performance and alumni giving as the third-highest category mover for the institution.
The progress in many of these metrics coincide with the work being done as part of UofL's broader, three-year Strategic Plan, which officially kicked off in the fall of 2019. The biggest driver behind this plan is how to make UofL a great place to learn, work and invest while fostering diversity, equity and inclusion.
The 36th edition of Best Colleges evaluated more than 1,400 colleges and universities. More information about this year's results is available online here.