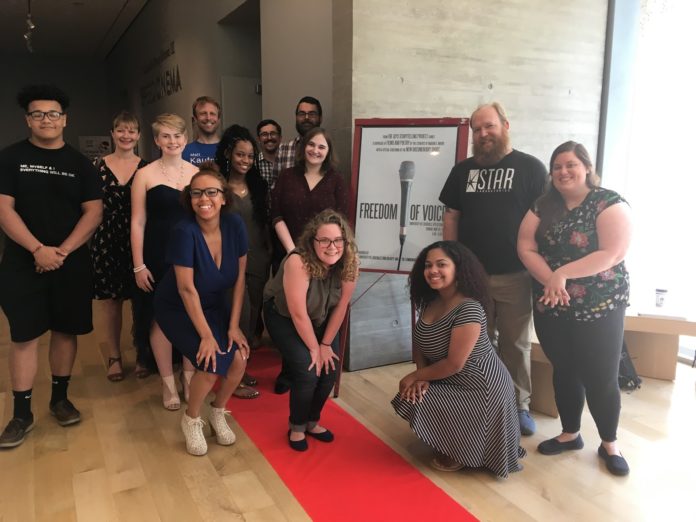 Students who worked together for months in a UofL-sponsored collaboration got the red-carpet treatment recently at the Speed Art Museum Cinema when their film, poetry and other creative pursuits were featured in a showcase.
The Jefferson County Public Schools Storytelling Project is a community outreach program that involves UofL English graduate students introducing middle- and high-school students to digital storytelling techniques and tools such as iMovie. The English department sponsors the program with UofL's Commonwealth Center for the Humanities and Society.
After a series of informal workshops, 15 students at Marion C. Moore School worked on a short documentary, "Freedom of Voice," that was screened at the museum in a Sunday program that also featured poetry performances and a fashion show. The film represented the Moore students' "personal and political experiences through their words, their camera lenses and their microphones," organizers said.
Under the graduate students' guidance, the Moore students developed storyboards to outline their work and shot, edited and produced the documentary. Check out the trailer.
The work grew out of discussions and art projects from the weekly after-school club Cultural Dialoguers, which aims to build bridges of understanding between cultures and to advocate for social justice.
UofL student coordinators Patrick Danner and Caitlin Ray both termed the work with the Moore students among the more rewarding projects and experiences of college life, according to their testimonials on the JCPS Storytelling Project page.
"The students are so open, so engaged and so excited to tell their stories and speak their mind," Danner said. "I'm usually exhausted on the drive there and inspired on the drive home. These students inspire me to listen better, engage more and step back from instruction and into the role of collaborator."
Throughout the process the younger students explored hot-button issues such as gun control, sexual harassment, gender stereotypes and racial discrimination as they responded to current and cultural events that affected them.
"Highlights of our work at Moore have included generating ideas with a group of middle school students for a video essay about eating disorders, recording a performance/discussion with the Okolona community at South Central (Regional) Public Library and facilitating a roundtable discussion after the Parkland (Florida) shooting about the students' thoughts about safety and gun violence in their community," Ray said. "I am always struck by the level of critical awareness and thoughtfulness they bring to each meeting and always look forward to spending my Thursdays at Moore."