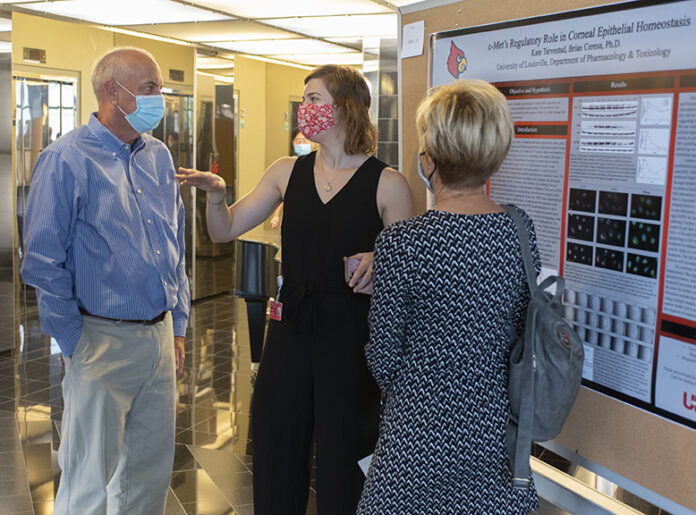 Research!Louisville (R!L) 2021 held its 26th annual symposium showcasing health sciences research at the University of Louisville Oct. 25-29. The event featured 290 abstracts from a select group of medical, dental, nursing, public health and graduate students, postdoctoral scholars, research associates, research staff, bioengineering co-op students, residents, fellows, faculty and NCI-R25 undergraduates.
The symposium serves to offer valuable opportunities to research scholars in need of gaining essential presentation skills and experience, meet scholarship requirements for faculty ranking and promotion, build peer networks and gain feedback from research scientists in a wide range of disciplines.
"The University of Louisville is a true research powerhouse," said Kevin Gardner, UofL's executive vice president for research and innovation. "This event is an opportunity to showcase the breadth of that work, create career pathways for students and raise awareness of the important role research plays in our day-to-day lives."
More than 126 judges with various fields of expertise devoted their time during the four days of poster sessions.
R!L's symposium also featured seminars, presentations and lectures on a variety of subjects, including nursing research, research security and foreign influence, environmental health sciences, core facilities, anti-racism research and more. Highlights included presentations by research scholars who received funding by the Jewish Heritage Foundation for Excellence, the Center for Integrative Environmental Health Sciences' series of presentations, the Kentucky Science Center's seminar for seventh to 12th grade students with a focus in biomedical sciences and, most notably, a media event/announcement of a $5.5 million grant from Kosair Charities to fund the Pediatric NeuroRecovery program and an additional $900,000 to other children's health programs at UofL (see photographs of the press conference on the R!L webpage).
R!L's keynote speaker Mary Jo Turk, professor of microbiology and immunology with Dartmouth College's Geisel School of Medicine and co-director of the Immunology and Cancer Immunotherapy Program, Norris-Cotton Cancer Center, presented the lecture, "Lymph node resident memory T responses to metastatic melanoma." Other keynote speakers included Derrick L. Franklin, acting chief of investigative operations, U.S. Department of HHS/OIG; Heather Hardin, assistant professor of nursing with Case Western Reserve University's Frances Payne Bolton School of Nursing; and Michael L. Blakey, National Endowment for the Humanities professor of anthropology, Africana studies and American studies and director of the Institute for Historical Biology, College of William & Mary.
 A recording of the keynote address and a slide show of the poster competition winners are available on the Research!Louisville webpage.