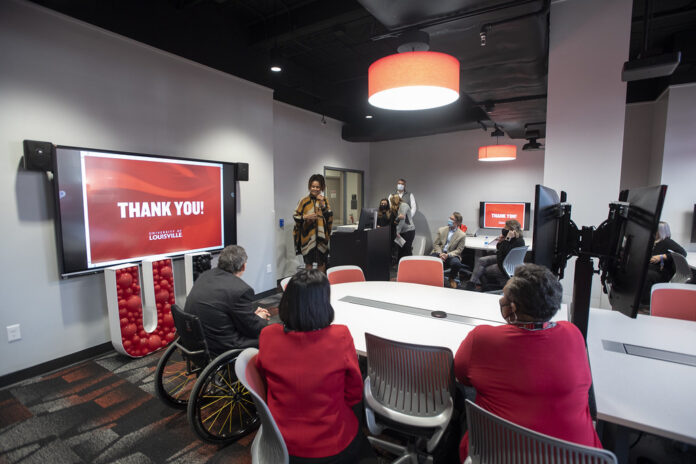 A collaborative approach to solving justice issues got a boost recently in the form of an inviting, tech-filled space where students and others can come together to tackle those societal problems.
Criminal justice faculty and students joined Louisville native and College of Arts and Sciences supporter Sam Lord Nov. 30 in celebrating his gift for a renovated Justice Laboratory in Brigman Hall.
The first-floor space includes a light-filled laboratory with enhanced technology that enables instructors to teach students and community members online and in-person at the same time and even asynchronously to allow access at a different time. The criminal justice department and the College of Arts and Sciences also would be able to hold a conference, record and-or stream it live.
The improvements would leverage the technology to reach a broader student base and even a global audience.
"It gives us a lot of capabilities that we didn't have before," said Tad Hughes, criminal justice department chair. "I promise you we will use this all the time."
Hughes explained that the multi-chair work stations, each with one of six screens, would allow students to work more collaboratively, interacting with their cellphones and laptops or tablets — plus the teachers can pull from each station for class discussion using a larger central screen at the front of the room.  
The laboratory opens onto a newly painted hallway wall with the words "On a journey to be better together" along with "Community-engaged, Future-focused, Policy-oriented."
"Justice is equally important in government as safety, and it intersects with safety a great deal. We don't know enough about justice, and we don't know enough about systems and how they work," Lord said. "My investment in this classroom and in all of your and the students' work is to help you bring better knowledge of criminal justice and to experiment."
A plaque in the space is dedicated to Lord's brother, chaplain Nathan Macauley Lord, and in memory of his parents and native Louisvillians Nathan Shrewsbury Lord, a longtime UofL law professor, and Rachel Macauley Smith Lord.
Cherie Dawson-Edwards, former chair and a criminal justice faculty member who also serves as the college's associate dean for diversity, engagement, culture and climate, recalled taking classes in the formerly outdated space as a student and shared that she was excited about teaching her social and restorative justice class there in the spring.
She envisions encouraging the campus and community to think beyond the words "criminal justice" and use the space "to engage in justice work. It can be about equality; it can be about social and racial justice."
President Neeli Bendapudi drew from her experience as a professor of consumer behavior in remarking about the transformative impact that space has people, both functionally and symbolically.
"I can just imagine the students who are going to benefit," she said. "This benefits the institution and the learning they are going to get."
Bendapudi expressed gratitude to Lord's longtime generosity to UofL, dubbing the Louisville philanthropist a Renaissance man for his interest in several aspects of university life.
"We are so grateful you're ours. Thank you so much," she said.
Lord previously funded a mathematics laboratory and a physics and astronomy computing platform and technology-enabled classroom, also in memory of his parents. He also has supported the Anne Braden Institute for Social Justice Research and the College of Arts and Sciences.
Brigman Hall, a large brick building along the Oval at Belknap Campus' west entrance, was erected in 1893 and later named in 1949 for Bennett Brigman '18, a College of Arts and Sciences teacher who became the first dean of Speed Scientific School (now J.B. Speed School of Engineering) at its 1925 inception. After serving as part of the engineering school, the building was home to the business school and then the public administration program before currently housing the criminal justice department and some Kent School of Social Work offices.