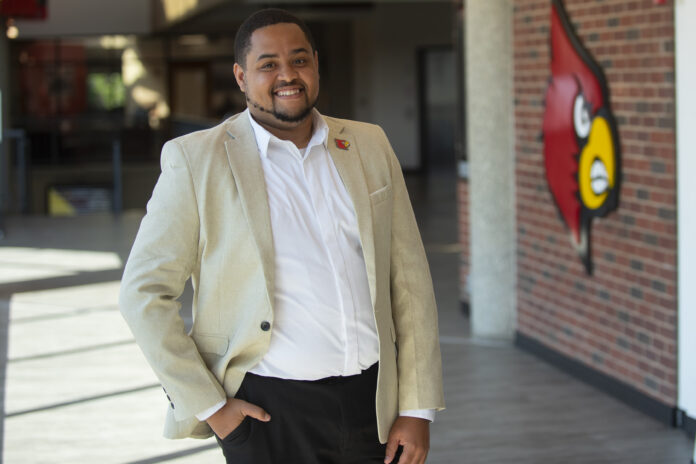 There are the three Rs of education–reading, writing, 'rithmatic–and the three Rs of sustainability–reduce, reuse, recycle.
Then there are Quantá Taylor's three Rs.
When the new University of Louisville director of student involvement considers the COVID-19 pandemic's effect on student involvement, the three Rs that spring to his mind are reimagine, revamp and reengage.
"This is one of the ways that I have been proud of the work of the Office of Student Involvement, as they have been resilient, innovative and adaptive in finding ways to continue to engage and connect with students," throughout the pandemic, Taylor said. "From grab-and-go options, to hybrid events, to fully online opportunities, OSI has never stopped, but only temporarily slowed down to make sure that the programs and initiatives that we offered were still able to be delivered at a high standard."
Taylor came to UofL earlier this year after working for the Kentucky Governor's Scholars Program and The Ohio State University. His time at OSU included working in a program whose goal was to be a national model for graduate and professional student engagement.
"After three years in this role, I shifted to an assistant director of campus programming, which focused on the holistic student experience and ensuring that all students were included in campus programs, traditions and experiences," he said.
Taylor and his colleagues thrive on high doses of student contact, and UofL's plans for a fully open campus this fall are a dream come true.
"I don't think there are adequate words to describe how excited I am looking forward to a return to a vibrant and active campus life," he said. "Having an office space that is in the Student Activities Center, I am looking forward to randomly popping in on student events, the hustle and bustle of students moving between grabbing food, attending meetings and just relaxing. I get energy from the activity of our students and I am looking forward to seeing the best that UofL has to offer."
Student involvement is part of the Office of the Vice President for Student Affairs. It provides cultural, social and recreational programs that enrich the education experience by maximizing the capacity of students to learn, serve and lead.
"As a practitioner scholar, research tells us that those students who are involved develop necessary skills such as better time management, transferable skills to their career and a better understanding of their personal values. When involvement shifts to engagement, this is when we see students retained," he said.
Taylor pointed out that belonging aligns with UofL's Community of Care, the first of the eight Cardinal Principles.
"When a student experiences belonging, it equates to feeling as if they matter to the campus community, that their presence has a significant impact on those they interact with," he said. "When I think about the Cardinal experience we hope to foster here in the Office of Student Involvement, every experience we curate is done so to increase student academic and social success and help them reach the ultimate goal of graduation. With students spending more than 70% of their time on campus outside of classes, we want to be intentional in helping students maximize every opportunity to achieve success."