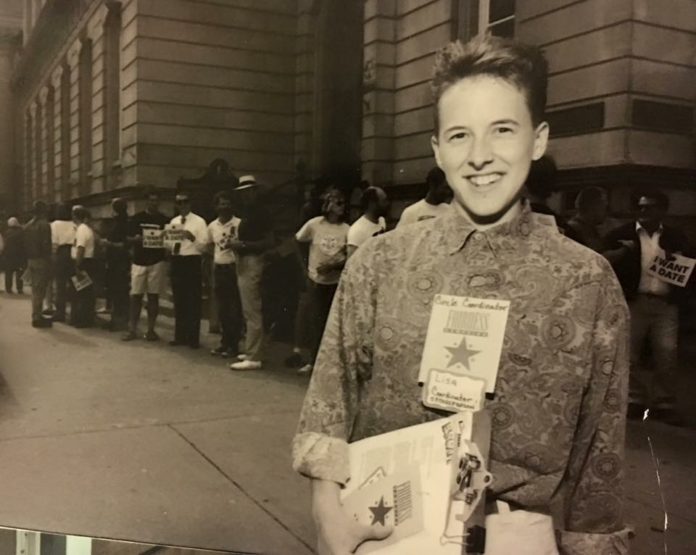 Lisa Gunterman, director of UofL's LGBT Center on Belknap Campus, recently helped celebrate the 20th anniversary of the passing of Louisville's LGBTQ Fairness Ordinance.
The Fairness Ordinance, which has now been passed in 10 cities across Kentucky, bans LGBTQ discrimination in employment, housing and public accommodations. As a young activist, Gunterman was one of the leaders and co-founders of the Fairness Campaign, Kentucky's LGBTQ advocacy organization, which ultimately helped to get Louisville's Fairness Ordinance passed.
UofL News had a chance to talk to Gunterman about working with the Fairness Campaign and the grassroots, community-wide effort to pass the ordinance.
UofL News: Why did you first want to get involved with the Fairness Campaign? 
Gunterman: I got involved in the Fairness Campaign because I felt like my life depended on it. As a young, gender queer person, I was 'outed' just by showing up. I felt the sting of oppression virtually every time I navigated public spaces, from hateful stares, to workplace discrimination, to police harassment, to strangers making physical threats and even discrimination in a hospital ER. There were so many aspects of my life that didn't feel safe. I feared for my future — sometimes for my life — and for the future of my LGBTQ family.
As a fifth-generation Louisvillian, I was driven by a passion to build a better city where ALL people were valued, appreciated and able to reach their full potential. I was asked on numerous occasions, 'why don't you just leave?' But I didn't feel like I should be forced out of the place I called home.
In my late teens and early 20s, I became heavily involved in Louisville's social justice community. I started doing voter registration drives with the Kentucky Rainbow Coalition and going to marches and events led by the Braden Center, Justice Resource Center and Kentucky Alliance Against Racist and Political Repression. I joined St. William Catholic Church and within a couple of years was elected as co-chair of their Peace and Justice Committee. It was through that work that I learned more about the Sanctuary Movement. I never had positive LGBTQ role models and know how much it would have meant on my journey, so I also volunteered as a mentor with the Louisville Youth Group.
At one point, I felt like I was attending social justice meetings and events almost nightly, but none of them were focused on LGBTQ rights. During one particular event, an elder in the movement pulled me aside and said, 'You know, it's OK to take up for yourself, too.' I almost cried. It was a very different time then and I didn't know many older people who were supportive of the LGBTQ community. I accepted the charge and got more active in the group March for Justice, an LGBTQ rights organization, which later played a role in birthing the Fairness Campaign. During that time, I also joined with activists to pass comprehensive hate crimes legislation that included LGBTQ people and supported a friend who worked to pass employment protections for people living with HIV/AIDS.
Thanks to social justice and civil right leaders, I learned a great deal about movement work, everything from community organizing, to the proper way to fold a letter for a mass mailing.
UofL News: One of the major accomplishments of The Fairness Campaign was the passage of the ordinance. What was the process of getting the ordinance passed?
Gunterman: People may not realize this, but we actually had enough co-sponsors on the Louisville Board of Aldermen to pass the Fairness Ordinance in December, 1991. Just before the vote was to take place, one of the co-sponsors was told by the bank where he also worked that he would be fired from his job if he supported the ordinance. Because of this last minute change, the Fairness Ordinance died in committee. I was devastated. I remember singing, "We Shall Overcome' and holding signs that said, 'Waiting for Justice' while members of the Board of Aldermen just went about their business. A few of our supporters, on the other hand, turned around in their chairs and sang with us.
What I didn't know then, and what would take me years to understand, was that losing was actually a gift. It forced us to re-group and concentrate our efforts on educational outreach and building a community-wide, grassroots movement. We created a speakers bureau where we shared personal stories and information about the ordinance. We trained teams of volunteers to go door-to-door in neighborhoods to educate residents about the ordinance, while also collecting data on Fairness support across the community. We also got more engaged in the political process and formed a Political Action Committee and actively worked to support the candidates who were Fairness Friendly (back then, hardly anyone sought our endorsement). It is through these everyday encounters, speaking engagements and door-to-door work that we started to dispel some of the myths about the Fairness ordinance while transforming hearts and minds. The LGBT Center's current SpeakOut team is based on this tradition.
We covered a lot of territory through our canvassing efforts and I will always remember one particular visit in the Germantown neighborhood. This area is significant to me because of my German heritage, and because my father grew up there. I was scared to knock on doors because I wasn't sure whether or not we would be welcome. One of the residents was not supportive of Fairness at first. As I explained what the ordinance would and would not do, he said, 'I may not understand or agree with you all, but I think you all should be able to keep your jobs.' I left that encounter feeling hopeful.
Fairness was introduced and voted down three times before it was finally passed in 1999.
UofL News: What are you most proud of from this effort?
Gunterman: One of the things I am most proud of was the way we approached the work. On several occasions over the years, both allies and people in the gay community told us, 'If you take out the words gender expression and gender identity' it might pass. Each time this sentiment was shared, we said, 'we'd rather lose together than leave anyone behind.' This meant a lot to me as a young, gender queer person.
I'd also like to add that while I am recognized as a co-founder, the Fairness Campaign has always been a broad-based, grassroots, LGBTQ rights and anti-racist movement. There have been thousands upon thousands of people who have contributed to the success over the years and the ordinance would have never passed without everyone who played a role.
UofL News: What has the ordinance meant to the city and you personally?
Gunterman: Being involved in the Fairness Campaign was probably one of the most important things I've ever done in my life, other than being a parent. It contributed to my journey of self-acceptance and connected me with social justice and civil rights leaders who are like family to me.
For the city, I noticed that in the years following the passage of the ordinance, I started seeing more LGBTQ people who felt comfortable to be 'out' in public. To this day, I still smile when I see LGBTQ couples in public who seem unafraid.
There's a quote I learned once that says, 'a law cannot guarantee what a culture will not give.' The passage of the ordinances like Hate Crimes and Fairness don't prevent people from harming LGBTQ people, but they do give LGBTQ people recourse should an incident occur. Before these laws existed, if something happened, there was nothing a person could do and no one to document the incident.
The other major change is that in the early days of the Fairness Campaign, I only knew a handful of trans and gender expansive people and each of us took turns sharing our stories during lobby meetings with the Aldermen. Today, I can see a handful of trans and gender expansive people (or more) on any given day in the LGBT Center.
UofL News: How has your work with the Fairness Campaign influenced your work with UofL's LGBT Center?
Gunterman: I feel like my work with the UofL LGBT Center would not be possible without my history of involvement in the Fairness Campaign, Louisville Youth Group and Civil Rights community.
During my time with the Fairness Campaign, I had the opportunity to hone my skills in public speaking, community organizing, training facilitation, fund development, conflict resolution and event management, all through an intersectional lens. I spearheaded trainings like Dismantling Racism, Non-Violent Civil Disobedience and Grassroots Fundraising, while working with a diverse group of facilitators from across the community. 
In the mid-1990s, I was hired as the first staff person at the Fairness Campaign, and that's when I met UofL's Brian Buford. He was one of the few openly LGBTQ people on campus at the time and was often invited to lead class presentations on LGBTQ topics. Given my experience with the Fairness Campaign Speakers Bureau, he'd occasionally reach out and invite me to join him. If I could travel back in time and tell the Brian and Lisa of the 90s that one day, UofL would be recognized by multiple national organizations for LGBTQ friendliness and the president would stop by to inspire and support students during the center's Welcome Week event, I know we would not believe it. In fact, I'm pretty sure we'd laugh.
The Louisville Free Public Library, with the help of Dr. Cate Fosl, director of the Anne Braden Institute, and Delinda Buie of the UofL Archives and Special Collections, is also hosting an exhibit now through March 17, where library visitors will be able to walk through the history of the 1999 Fairness Ordinance. Materials for the Fairness exhibit come from the Williams Nichols Collection that is housed in the UofL Archives and Special Collections.