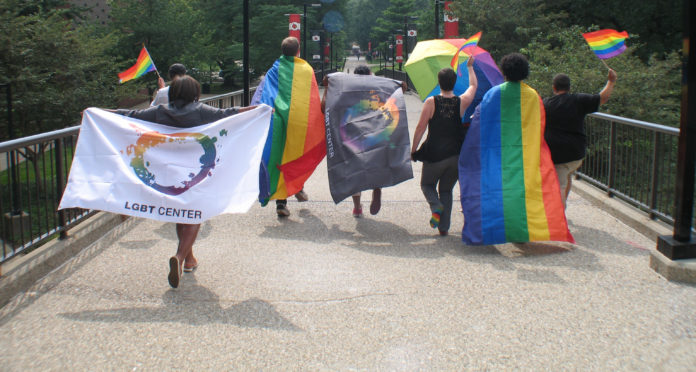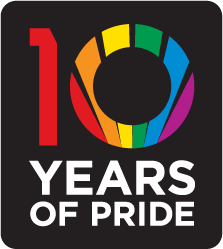 Brian Buford and Lisa Gunterman chuckle about it now, but when they both recall the details of their experience speaking to a UofL class in 1995, their tone turns a bit more somber.
Some students stormed out. Others held newspapers over their faces in protest.
Buford, assistant provost for diversity and executive director of the LGBT Center, and Gunterman, director of the Belknap LGBT Center, were participating in a "speak out," sharing their stories as members of the LGBT community at a time when being out was uncommon, rejected even.
Fast forward to now and Buford "still can't get over" just how far the LGBT community has come on campus and in general. For starters, the LGBT Center now exists and, in fact, is marking its 10-year anniversary this year."
Buford has been at the front lines throughout the history of the LGBT Center. His work has led the university to national recognition – in 2014, UofL received a 5-star ranking on the Campus Pride Index and has been ranked in the top 30 each year since. Last year, UofL jumped into the top 16.
Other milestones
There has been a host of other milestones during the center's 10 years, including:
In 2007, UofL became the first Kentucky school to offer health insurance benefits to LGBT couples.
In 2008, UofL became the first school in Kentucky to add "gender identity" to its non-discrimination policy.
In 2009, UofL became the first school in the country to endow a chair in LGBT studies, held by Dr. Kaila Story.
In 2010, UofL established gender-neutral restrooms on both the Belknap and Health Sciences Center campuses.
In 2012, UofL launched the Rustin Community, the region's first LGTBQ and ally-themed housing floor.
In 2013, UofL launched the LGBT study abroad program, the first of its kind in the south.
Also, in 2014, UofL became the first university in the country to open a staffed LGBT office in a medical school, directed by Stacie Steinbock. The office now leads the nation in LGBT competency training through its eQuality Project, which has been recognized nationally.
The janitor's closet
The quick growth and success of both the Belknap LGBT Center and the HSC satellite office underscores the need for having such a resource available. Prior to 2007, there would be occasional speak outs, but Buford was one of few, if any, willing to share their story.
"I have been here since 1988 and came out that same year. Friends of mine who were professors would ask me to talk to their classes and I was willing to do it to try to help people understand," he said.
"I always told him he was the only person then who was willing to do it," Gunterman added. At that time, she worked for the Fairness Campaign and would sometimes tag along with Buford to speak as well.
"The incident in the classroom with the students walking out or holding up newspapers showed that this was often the only time these students saw an LGBT person. This type of reaction happened every time," she said.
People would often ask Buford why he continued enduring such resistance.
"I believed then and still believe now that if you get to know someone and personalize them, people will be less likely to hold hurtful, hateful, prejudicial ideas," he said. "This continues to be one of our core principles – relationship building. It is what shifts the climate more than anything else. That's the long game."
Buford's patience paid off in 2007, when he was working in UofL's HR office. During a leave of absence as he hiked the Appalachian Trail by himself, a friend called and asked him to think about applying for a new part-time position that was created to lead LGBT initiatives. The position was driven by Mordean Taylor-Archer, vice provost for Diversity and International Affairs.
"I hiked for a couple of days and I knew I had to figure it out logistically, since it was part-time, but I figured it out by the time I got to the next town in New Hampshire. I knew I really wanted to do it," Buford said.
He finished the trail in October and started the job on Dec. 1, 2007, maintaining some of his HR duties to fill out a full-time schedule. UofL didn't have a space for his LGBT position, so he worked out of a janitor's closet in Davidson Hall.
About a year into his position, Buford shifted to full-time and located to the Red Barn, where the center has been ever since. In 2011, the center had grown enough to bring Gunterman on board and the two eventually tried to figure out how to also meet the needs of the HSC campus.
In 2013, a fundraising effort achieved its goals and Buford recruited Steinbock to focus on building up the satellite office. Another milestone achieved. 
The intangibles 
Buford jokes that coming on board right after a months-long solo hike filled him with an abundance of ideas and energy.
"I had all of this time to think and envision and dream big. By the time I got back, I was telling Mordean we were going to be the greatest LGBT Center in the country," Buford said.
His first priority was to ensure students on campus that they now had a safe place to go, where they could hold hands with their partners, have conversations about their identity and generally feel included. He then started working off the Campus Pride Index, which is the only national measurement of LGBT friendliness on college campuses.
"That became my to-do list. Some of it felt like low-hanging fruit, that we could do quickly and easily. Others took some capacity building," Buford said. "I am proud of the progress we've made by adding things like gender identity into our non-discrimination policy."
But his favorite achievements thus far come from the "intangibles." For example, when the work was being done to add domestic partner benefits, the provost asked him why people don't think it's an LGBT-friendly campus.
"She said 'I don't get it. I feel like it's very friendly here,'" Buford recalled. "I explained that it's like when you come out to your family and your family tells you that they accept it, but they never talk about it again. One time doesn't do it. If you have a history of being excluded, you need to hear frequently from your leaders that you are included."
That same year, UofL's president acknowledged the LGBT Center's success as one of the first points of pride during the State of the University address.
"That was a turning point for me. It was one of my proudest moments. Ten years is a long time for students who are 18. Their memory includes a university that only has an LGBT Center and LGBT resources," Buford said. "But for me and for Lisa, I still can never get over it. We didn't have that in college. Every time someone includes us it blows me away."
What will come in the next 10 years will largely be driven by those students, Buford said, pointing to transgender inclusion as an example.
"Our students are teaching us to expand our definitions and blow up those old boxes. That's beautiful," he said. "This is true of our entire community – we're constantly expanding and evolving. We can't be the same LGBT Center we were 10 years ago and still meet the needs of students today."
Pride parade
The LGBT Center invites the UofL community to march in the Kentuckiana Pride Parade on Friday, June 16. As the LGBT Center marks its 10th year anniversary, it is hoping to have UofL's largest parade contingency ever. Buford has been named the 2017 Kentuckiana Pride Parade grand marshal. More information is available online.