Every October, Cardinals return to their alma mater for homecoming. Most have a must-visit spot on campus like The Thinker or their old residence hall, but for Terry Smith, Jr., that spot is the Lenny Lyles statue outside of Cardinal Park on Floyd Street.
The statue holds personal meaning for Smith, as he served as Sculptor Ed Hamilton's model during its creation.
The statue itself, unveiled in October of 2000, was erected to honor a Louisville-raised athlete who changed the landscape of sports at UofL.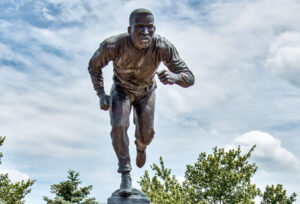 Lyles became the first Black athlete at the university in 1954 and started as a defensive back and running back for four years. Known at the time as the "fastest man in football," he translated that speed to the track, where he set school records in the 100-yard dash and 220-yard dash – distances that have since been replaced with their metric counterparts.
In the first round of the 1958 NFL Draft, Lyles went to the Baltimore Colts, where, aside from a two-year stint with the San Francisco 49ers, he spent his 12-year career.
As a two-sport athlete, UofL Athletic Hall of Fame member and true trailblazer, Lyles was to be honored with a life-size bronze statue outside of the newly-constructed Cardinal Park. Ed Hamilton, an accomplished area artist, was commissioned to sculpt and cast the piece, but needed a model as he only had a front-facing photo to work with.
With a similar build to Lyles in his college days, Smith – then a sprinter for the track and field team – was selected as that model.
"For about a month to a month and a half, I would attend his studio downtown," Smith said.
A few days a week, he would spend a few hours posing as Hamilton sculpted away. Each time he entered the studio, he saw the piece coming to life more and more, noting the subtle changes made as Hamilton worked using his photo reference.
"I didn't really understand the gravity of it [at the time]," Smith said.
He researched Lyles and began to realize what he was a part of.  
"Seeing what Mr. Lyles did here and the impact he had here at the University of Louisville," Smith said. "It's a big deal because of the history – of him being an African American, him coming here and making the impact he did in his sports."
Now, 21 years later, Smith still drives by the statue with his two daughters any time he has the chance.
"I wasn't really the fastest guy, so this is really my claim to fame," Smith said. "This is what I consider my legacy."