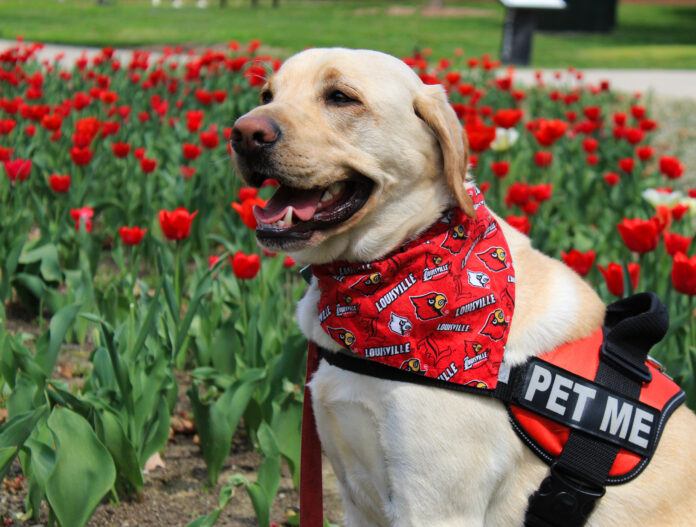 For the past two years, the unofficial ambassador for the UofL Latin American and Latino Studies (LALS) department has brought a smile to the face of countless students, faculty and staff. Whether he's recruiting a student to the program, or checking in on a familiar face, Jake Buchanan greets everyone he encounters with kindness, compassion and often the wag of a tail.
When Rhonda Buchanan, a professor of Spanish and LALS director, and her husband Bob Buchanan, a professor of Chemistry and Arts and Sciences associate dean of Research, adopted Jake, they knew they wanted to bring him to campus as a therapy dog. He passed his final certification tests on June 28, 2019, and happily accepted the task at hand – to bring comfort to anyone he encounters.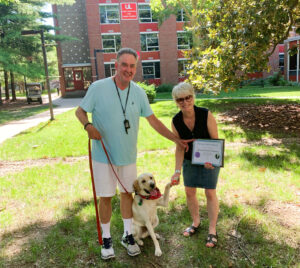 Before the university transitioned to remote and hybrid learning, Jake's days were full of visits from students, faculty and staff. 
"I noticed when I got him and started bringing him to work with me, students came to see me much more often – and I know for a fact it was more to see him," Rhonda Buchanan said. "I mean, how many times can they come to see me for advising, right?"
There was a steady stream of people coming in to the LALS resource center in Stevenson Hall where students had treats, coffee, tea and visits from Jake as they studied. His presence created an opening for students who may not have otherwise sought help to come in and ask questions.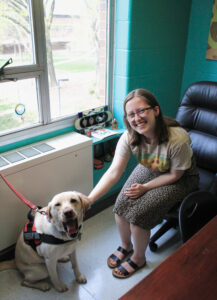 "Jake is one of my favorite parts of the program," said Alarah Gillum, a third-year LALS major and LALS student assistant. "When I've had a stressful day or I've had a lot of work, it just brightens my day to see Dr. B and get some love from Jake." 
The jingling of the tags on Jake's collar as he trots through the halls of Stevenson is usually a clear indicator that someone's day is about to get a little bit better.
"Jake brings such a sense of joy to students. [He's] always happy to see you and always has a tail wag and lots of kisses," said Jan Rayburn, an administrative specialist with Women's Gender and Sexuality Studies. "The last year it's been really lonely and I miss him a lot."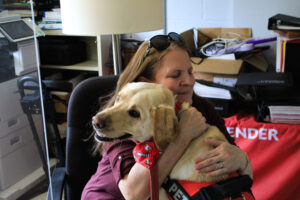 As a bit of a social butterfly, the past year has been hard on Jake, too. Just as students, faculty and staff benefit from Jake, he benefits from them. 
"I think [the pandemic] has really affected him because I was doing more remote teaching," Buchanan said. "Recently, when things lifted up a little more I started bringing him back in. I think he notices the difference because he truly enjoys meeting new people when we walk across campus."
When Buchanan is teaching in person, she often brings Jake along to greet her students for a few minutes before class, but even when a lesson is virtual or he isn't able to make an in-person appearance, his photos are sprinkled throughout the professor's slideshows.
On a typical day, Jake makes classroom appearances, joins Buchanan for office hours, checks in with friends like Alarah and Jan and relaxes in the LALS tranquility garden. One of the most exciting parts of the day, though, is walking to and from the car. That's when he gets to do his favorite thing – meet new people. 
Needless to say, Jake is looking forward to seeing more students as they come back to campus. He welcomes everyone – not just members of the LALS program – so, if you see him walking around with his "pet me" harness, be sure to make his day and offer him some love.