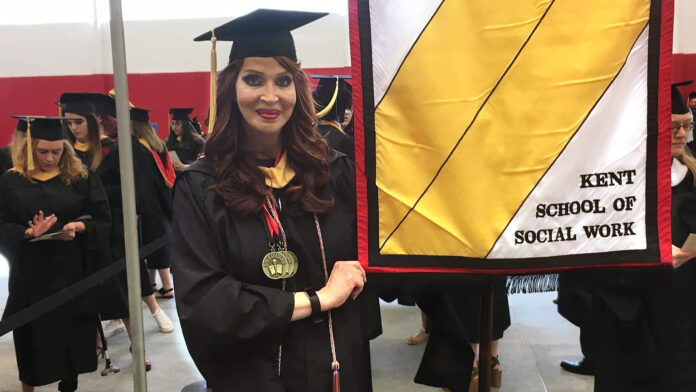 On Sept.13, 2020, UofL alumna Amirage Saling ('12, '19) passed away at the age of 52. Saling, the first transgender person to carry a school/college banner at a UofL commencement ceremony, received her education later in life, but she proved to be an admirable pillar of the community that illuminated the Kent School of Social Work with joy, according to those who knew her. 
In Saling's honor, the Kent School created the Amirage Saling Trans Champion Scholarship, available to any Kent School student who is transgender, non-binary, gender fluid, gender queer, gender non-conforming or a champion for and of rights within the transgender community. The scholarship will be awarded for the first time in spring 2021.
Anita Barbee, Kent School professor, got to know Saling personally when she was a student and said Saling's willfulness, intelligence, constant quest for knowledge and her radiant spirit made her the perfect person to name the award after. She also believes the creation of a Trans Champion scholarship was much needed in the transgender community.
"We really thought it would would be important to lift this group up because I believe that they're the most vulnerable in terms of bullying and being terrorized by people and facing mental health and risk of suicide," Barbee said. "It's part of our mission at the school of social work to focus on the oppressed."
There are very few scholarship opportunities dedicated to the LGBTQIA community, but even fewer dedicated to nonbinary, gender non-conforming, gender queer, and transgender community specifically, organizers said. By providing the trailblazing scholarship, the Kent School reinforced the Cardinal Principle of diversity and inclusion.
Saling's story is not only one of inspiration, but one of unparalleled determination and strength. Diagnosed with HIV at a young age, during the 1980s, she turned what was stigmatized as a death sentence into a legacy she worked tirelessly to leave behind. She became an integral part within the LGBTQIA community by helping others who received the same diagnosis cope with the news and by teaching sexual education to many people within the Louisville community. As an advocate, Saling helped people understand HIV is not the death sentence that some claim it is, using herself as an example.  
More information about the Amirage Saling Trans Champion Scholarship is available online here.