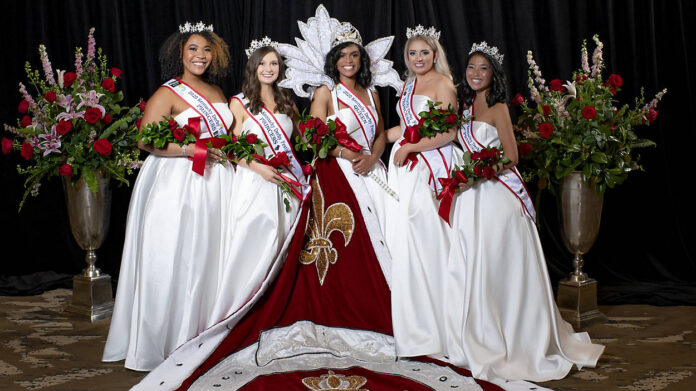 With the traditional spin of a wheel, Louisville native and UofL senior Giavanna (Gia) Combs was named the 2021 Kentucky Derby Festival Queen at a special Coronation Ceremony at The Galt House Hotel.
Combs, a Psychology major with a minor in Pan-African Studies, is the vice president of the Caring of New Students Experiencing College Transition (CONECT) Peer Mentoring Program, a Woodford R. Porter Scholar and a Denny Crum Scholar. She is a member and the secretary of the Beta Epsilon Chapter of Alpha Kappa Alpha Sorority. Combs also participated in the medical companion program with the Louisville VA Medical Center, and worked with Global Game Changers Student Empowerment Program. While working two jobs, Combs has successfully maintained a 4.0 GPA for her senior year.
UofL junior Leah Hazelwood, from Lebanon, Kentucky, is also a member on this year's court. She is dual majoring in Political Science and Liberal Studies with concentrations in Race and Gender Studies, Global Public Health and Economics.
Other members of the court include: Hannah Maria Edelen of Springfield, Kentucky, an honors graduate of Northern Kentucky University and currently a graduate student at UK working on her Masters in Education and Policy; Molly Jett of Louisville, a graduate of Bellarmine University and currently an on-air reporter for WMAZ; and Hannah Robb of Louisville, a senior at Bellarmine University studying Business Administration and Marketing.
This year's court has had an historic reign since being named in 2020. Selected from a pool of more than 100 applicants, they have continued to represent the Festival in many ways and through extraordinary times.
The princesses act as ambassadors for the Derby Festival and the city as they represent the community at a variety of functions which has included virtual and in-person throughout the past year-plus.
Since 1956, the Derby Festival has worked to bring the community together in celebration.