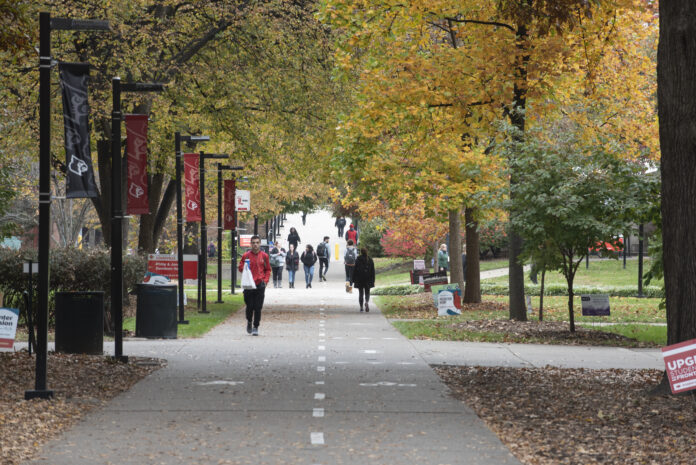 UofL's Faculty Senate held its latest meeting Nov. 3, with updates on student enrollment, university endowments, a recent federal COVID-19 mandate that applies to UofL and highlights from a record-breaking fiscal year for research and innovation.
Executive Vice President and University Provost Lori Gonzalez provided senators with updated information on enrollment, endowments and the recent federal COVID-19 mandate. When compared to figures from fall 2020, enrollment is down 48 students. Although institutions nationwide are experiencing a drop in enrollment, the national average is a loss of only 2.3 students. Gonzalez reported that student retention was also down by 4.3%. Senators were informed that student enrollment and retention will be a targeted initiative for the university and administration for the foreseeable future.
Gonzalez also provided senators with information on the current state of the university's endowment funding.
"So many of our endowments were previously underwater, but this past year they're all above water," Gonzalez said. "Our return on investment for our endowments was 33%. This means endowments will go up for the next fiscal year, since they are done on a three-year rolling average."
A university-wide communication on Oct. 21, 2021 [PDF] informed members of the Cardinal community of a recent federal mandate regarding COVID-19 response. The executive order requires all federal contractors and covered contractors to implement a COVID-19 vaccine mandate. Due to the numerous federal contracts that the university depends upon for operation, this federal ordnance will apply to UofL.
"The federal government allows medical and religious exemptions; however, the state-approved conscientious objector exemption is not allowed by the federal government. It's my understanding that Kentucky's attorney general may be challenging this rule, but we must wait for the outcome of that decision on conscientious objector exemptions," Gonzalez said.
Executive Vice President of Research & Innovation Kevin Gardner gave a presentation on UofL's impressive fiscal year 2021 research impact. The presentation highlighted the record-breaking $201.5 million in competitive research funding, which was over $30 million more than the previous record set in FY20. Gardner also featured several UofL research initiatives that addressed the three Grand Challenges of research and innovation outlined in the 2019-2022 Strategic Plan [PDF]: empowering our communities, advancing our health and engineering our future economy.
Committee reports and a video recording of the meeting can be accessed on the Faculty Senate meetings webpage. The next Faculty Senate meeting is scheduled for Dec. 1 via a hybrid format with the option of remote attendance via Teams, or in-person attendance at Ekstrom Library's Chao Auditorium.