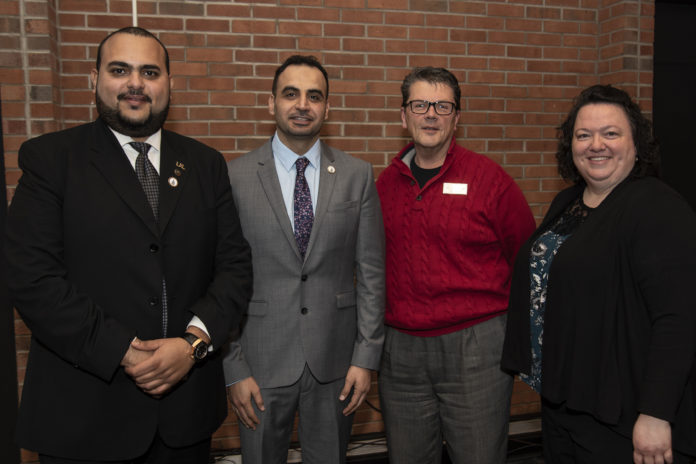 The Delphi Center for Teaching and Learning hosted the annual Faculty Favorite reception last week, recognizing the five professors chosen by students as this year's honorees. 
They include Khaldoun Almousily, Classical and Modern Languages in the College of Arts & Sciences; Kathryn Harman,  Health and Sport Sciences, College of Education and Human Development; Ahmed Shalaby, Bioengineering, J.B. Speed School of Engineering; John Finch, Early Childhood and Elementary Education, CEHD; and Emily Schnarr, Management, College of Business.
"The best part of my position right now is seeing our University of Louisville students become teachers. And I know when that transition happens," Finch said. "I tell them early on that when you come into this course, this classroom, I don't want you thinking and being a University of Louisville student. You are to be a teacher.  You are to think like a teacher, act like a teacher. You're a teacher.  And that's the way I'm going to treat you, that's the way I want you to think, look and act. So when I see that transition, it's absolutely phenomenal." 
Shalaby, who teaches a class called managing big data in medicine, said the subject matter is complex and therefore needs to be simplified more. 
"I break down the information into smallest, smaller pieces that make easy for students easier to understand it," Shalaby said. 
Harman agrees with the method of simplification for her course, which covers a lot of information about muscle function and how muscles create movements at joints. 
"I can't just talk about it. I have to show them," she said, adding that it's important to give students a different way to look at course materials. 
Almousily's approach to teaching is to add context to prepare students to be global citizens. 
"I want them to say I'm glad the class is over, I'm going to go practice what I learned," he said. "The first thing we do in teaching is engaging. If a student is not engaged in the class I don't think they're going to learn anything. I want them to be the center of attention, the center of the class."
"I tell my students … they're the ones that keep me coming back and doing what I do," Finch adds. 
Check out our Faculty Favorites in their own words: