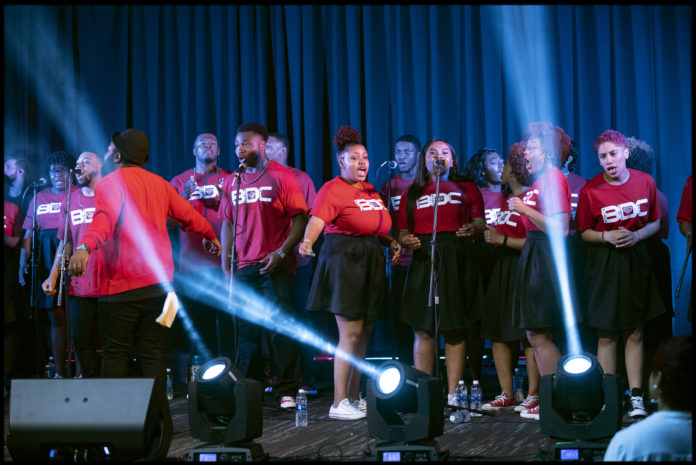 A campus constant for half a century, UofL's Black Diamond Choir shares the gospel musically and celebrates its 50th anniversary milestone during the 2019-20 school year. However, the spring anniversary concert this month had to give way to an anticipated bigger, better version in the fall due to COVID-19-related postponements. 
It's just a little setback for a student group born in 1969 as a safe haven for black students to bond and share their Christian faith. Now multicultural and one of the oldest student gospel choirs in Kentucky, it has grown into a 45-to-60-member registered student organization (RSO), and also a one-hour vocal ensemble course at UofL's School of Music.
The choir incorporates students from all majors and allows them to continue to participate regularly throughout their enrollment at UofL, which also makes for a stronger community, improved continuity and better performances. Everybody's welcome, even people with no prior choir experience, according to its leaders.
"It's a joy working with these young people," said Jason Clayborn, the choir's music director for the past five years. "I want to see them not just learn music but become better in life itself. They can take the messages and music they're learning and apply it to life."
A national gospel recording artist and acclaimed songwriter himself, Clayborn also is praise and worship director at St. Stephen Baptist Church. The busy musician said he was drawn to the UofL opportunity to give back, to strengthen the students' faith and knowledge of gospel music, and to note its influence on the traditions of jazz, rhythm and blues and hip-hop. It is seemingly his destiny – his mother sang in the Black Diamond Choir.
It was Asia Peeples' path also. She already was active in the Louisville gospel community and knew Clayborn from his church work before starting at UofL. She became Black Diamond Choir president for three years and continued as a member through this semester; the communication major plans to graduate in December.
As its president, she helped arrange and coordinate guest performers' visits to sing with or direct the choir and worked with campus organizations requesting the choir sing at their events.
"It's been pretty cool to be able to work with and learn from other gospel artists," Peeples said.
"Black Diamond, for me, is my kind of saving grace, a space of peace for me," she said. "Like home almost."
"A lot of students aren't music majors but are musically inclined," Peeples said. For her and other "church kids on campus," singing with Black Diamond can be "a place of release."
It's as though the founders knew that, too. Students Beatrice Brown and JoEtta Harrington started the choir, according to "The University of Louisville" by Dwayne Cox and William Morison. Brown became its director as she pursued a bachelor of music education degree in 1972 and served as a UofL choral director and music teacher through 1975. Harrington, now JoEtta Perkins, earned two music education degrees and lives in Jefferson County.
The book "Images of America: Louisville's Historic Black Neighborhoods," which Brown wrote, offers her explanation of the name. "She named the choir 'Black Diamond' for the resilience and strength of people who had endured so much. She saw their strength and tenacity as a diamond, and the black represents the people," according to the 2012 publication.
Tonya Triplett had the chance to meet the founders during her 1991-2001 tenure as Black Diamond director.
"Both of them – fabulous awesome women, just women of God who wanted the opportunity to create a voice for African Americans, and Christians in general, to express themselves," Triplett said.
The former Kentucky State University gospel choir director was moving to Louisville for another job and additionally took up the choir mantle from Sherman Lamont Bush, an alumnus who had directed the ensemble for 19 years.
While at UofL, Triplett was proud to take 85 of the students to perform in England. "It was a wonderful experience, and the people of London were very gracious to us," she said.
She also recalled that through the support of then-UofL President John Shumaker, who also was instrumental in the choir getting red-and-black robes for performances, the students performed the national anthem a cappella on the 50-yard line at the opening of UofL's football stadium and also sang at a meeting of all Kentucky's university presidents.
"I'm just proud to have been a part of it," said Triplett, who now serves as minister of discipleship and congregation involvement for Burnett Avenue Baptist Church in Louisville.
Choir members currently learn 15-to-20 songs a semester along with dance moves that enliven the concert experience, whether they are sporting choir robes or signature red, black or white T-shirts as costumes. "It's very interactive," Clayborn said.
The anniversary concert's format was to feature, and later will, the current choir in half the numbers and also the choir's returning alumni and former directors in the other half. "This will still be incredible," Clayborn promised.
Although the date hasn't yet been set, the fall concert will be a calendar must for people like Peeples, even as she prepares to graduate.
"It's really been a constant for me, a place that kept me level-headed," Peeples said. "It really has been a home for me, a place where I could be free and myself. I'm going to miss it."