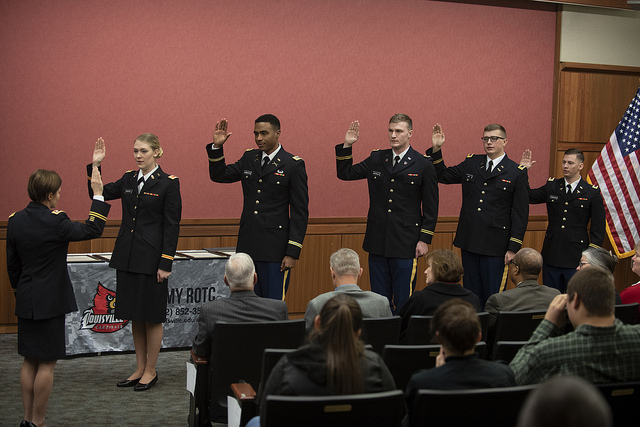 The University of Louisville's Army ROTC has commissioned more than 400 officers during its 36-year history, and five more were added Dec. 13 during a ceremony a day ahead of winter commencement.
Lt. Col. Jessica Murnock, UofL professor of military science, said in opening remarks that the life of an Army ROTC cadet is more than classes, papers and exams. There's also a lengthy list of training activities from physical training several mornings a week to obstacle climbing to parachuting out of airplanes and helicopters.
"They are not better or worse" than the average college student, she said. "They are just different."
The new officers received a commission certificate, then family members pinned bars to their uniforms signifying their new rank as second lieutenants. The tradition of the first salute followed, in which the new officer presented a silver dollar to the first enlisted person who rendered a salute. For several cadets, the salute came from a family member retired from military service. Afterward, the officers recited the Oath of the Commissioned Officer and closed by singing the Army Song.
During the ceremony in Chao Auditorium, the following Army cadets were promoted:
College of Business: Leah Harper, Computer Information Systems; Matthew Whitehouse, Marketing
School of Nursing: Jacob Robinson, Nursing
Speed School of Engineering: Tyler Ley, Chemical Engineering
College of Education and Human Development: Kendall Howerton, Health and Human Performance/Exercise Science
Photos from the Dec. 13 ceremony by University Photographer Tom Fougerousse are available online here.