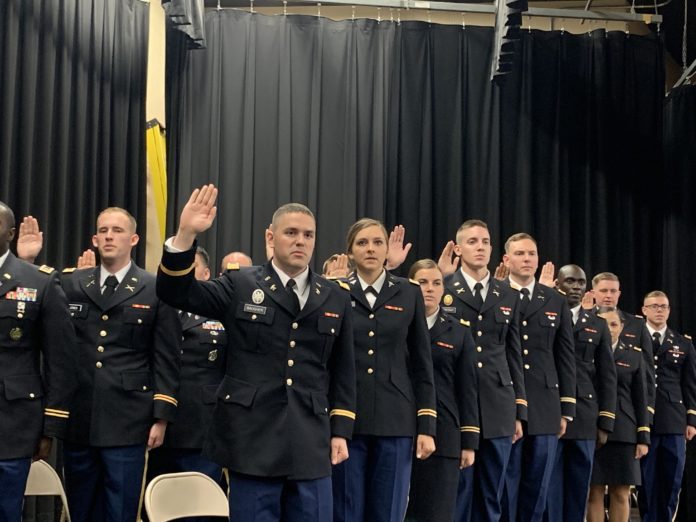 In an emotional ceremony the day before Spring Commencement, 17 University of Louisville Army ROTC students became commissioned officers.
Each new officer received a commission certificate, then family members or friends pinned bars to the service members' uniforms. The tradition of the first salute followed, in which the new second lieutenant presented a silver dollar to the first enlisted person who rendered a salute.
Newly commissioned officers were also assigned to their branches during the Cardinal Battalion Army ROTC ceremony, which took place in Middleton Auditorium.
"It takes a village to teach, coach and mentor these young men and women to where they are today," said Lieutenant Colonel Jessica Murnock, professor of military science.
Murnock added that the overall GPA of the cadets recognized today is 3.4. 
The guest speaker during the commissioning ceremony was UofL President Neeli Bendapudi.
"You are what I want every student at the University of Louisville to be like because you have shown that you have the physical, the emotional, the mental, the spiritual strength to be here today," Bendapudi said.
The following Army cadets were promoted: Brayden Bereznay, Alec Hayes, Stephen Schaltenbrand, Morgan Cornell, Zachary Michael, Derick Davidson, Elaine Reitan, Patrick Stewart, Duy Tran, Alexander Jones, Samuel Best, Keith Johnson, Kenneth King, Scott Peters, Joshua Wray, Taeisha Wynder and Omar Cham.
UofL's Army ROTC has commissioned more than 400 officers during its 37-year history.
In a separate ceremony, four UofL students who were members of the U.S. Air Force's 295th Air Force ROTC Cadet Wing were also commissioned. 
Promoted were: Kevin Burdette, Nicolas Ferrara, Raymond Palazzo and Dax Parker.