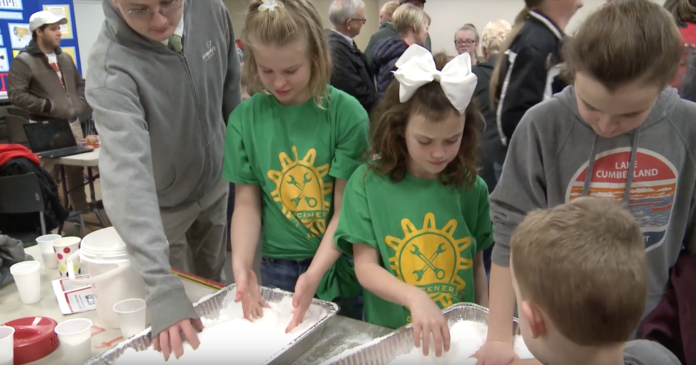 More than 400 area K through 12th graders attended University of Louisville Speed School of Engineering's annual Engineering Expo earlier this month. Students had the opportunity to enjoy a day full of fun, hands-on activities such as turning powder to snow, playing video games and seeing drones fly. 
"It's important to get the community involved in engineering activities" said Marty Brown, a UofL engineering student and one of the organizers. "We want the future to be engineering and this is a great way to have fun while showcasing engineering as well." 
In addition to these activities, the E-Expo also included some competitions. Students, for example, were tasked with designing Rube Goldberg, chain reaction machines. The students' goal was to design a contraption that could spin a wheel around at least once. Jacob Prather and two of his friends created one of the more elaborate Rube Goldberg designs, which included a rocket, toy race-cars and a Ferris wheel. 
"We all like electricity and other scientific forms so it's a good opportunity to apply those things and you get to make a project that achieves a goal and is fun to work on," said Prather. 
The UofL engineering students who helped organize this event hope these activities and competitions will inspire these young minds to eventually pursue engineering as a career. 
Check out some highlights from the event: