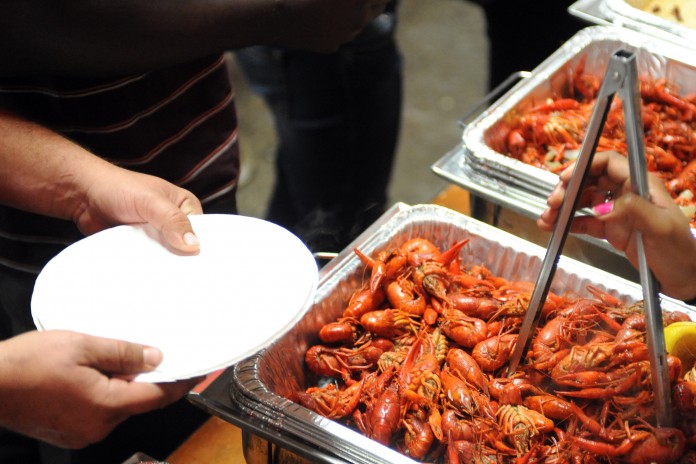 The Red Barn is reinvigorating a long-held and long-enjoyed tradition after taking a one-year break during the pandemic. The Crawfish Boil is returning to campus April 9.
The Crawfish Boil has been a signature campus event, with a consistently strong turnout, since 1986. The event marks a spring rite of passage on campus, connecting the Cardinal Family to amazing food and a chance to give back.
"The Student Activities Board hosts this event where we bring the alumni, current Cardinals, future Cardinals together and we all get together to celebrate what it means to be at the University of Louisville while also supporting academic endeavors through scholarship funding," said Ashley Triplett, coordinator of Student Activities Board.
Proceeds from the dinner go to Red Barn scholarships and the Red Barn Alumni Association.
Throughout the past year, COVID-19 has impacted every aspect of campus life from classes to commencement. Accordingly, the Crawfish Boil planning committee had to adapt to new safety protocols and institute a virtual aspect for people to take part in this tradition while keeping health top of mind.
"Normally you would experience having a buffet style, but this year, we are incorporating a dine-in reservation system where people will come in, be able to social distance and to sit down with their party and eat within a 45-minute window. Then we will move on to our next reservation," Triplett said.
Additionally, the group decide to make the boil free for UofL students. Community tickets are $10.
The dine-in experience will follow social distancing protocols that allows a reservation for up to five individuals. Though dine-in reservations are limited, student carry-out is an option the board made possible this year. A carry-out walk up will be available for free for UofL students only.
The original idea for the Crawfish Boil came from Student Activities Board Adults on Campus committee member Charlotte Hardin, formally Bowen, in 1986. She asked her father, Bill Bowen, a surgeon in Columbia, South Carolina, who raised crawfish, to fly several hundred pounds of crawfish to Louisville. He agreed. Dave Baugh, director of financial systems for the university, cooked the crawfish that year and has been the chef behind the boil every year since.