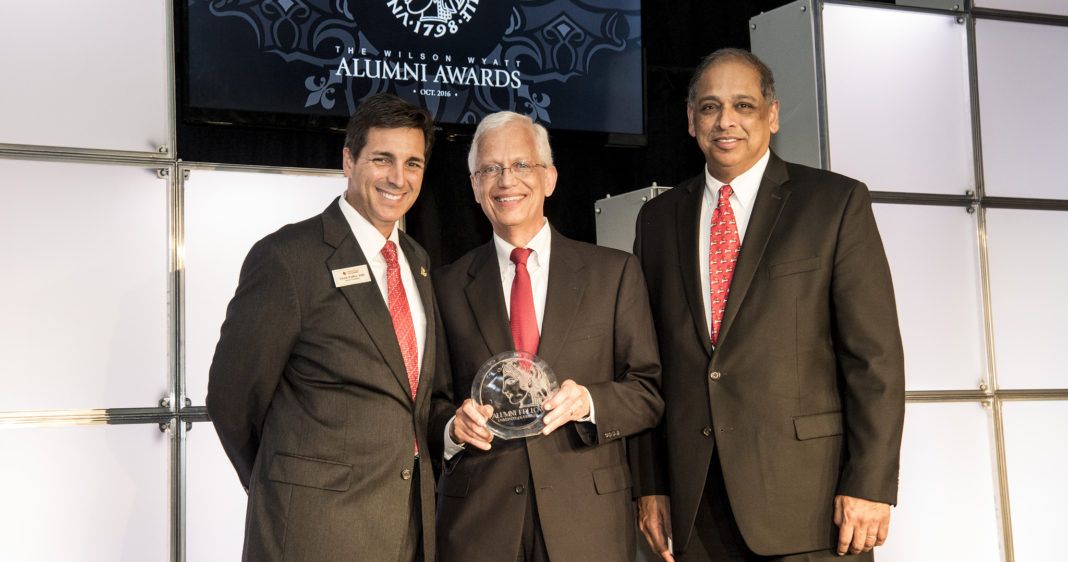 One of the annual highlights from UofL's Homecoming Week is the Wilson Wyatt Alumni Awards Ceremony, established in 1983 to recognize graduates who have distinguished themselves in their chosen fields and are exemplary ambassadors for the university.
This year's winners have impacted countless lives and communities around the world. Consider, for example, Ernie Allen. This year's Alumnus of the Year is a 1968 Arts & Sciences graduate, and a 1972 graduate of the Brandeis School of Law.
Allen is a founder of the National Center for Missing & Exploited Children and served as chairman, then president and CEO for 28 years.
During his time leading the organization, it safely located more than 183,000 missing children. While he was CEO, the recovery rate jumped from 62 to 97 percent. He started a 24-hour hotline, a cyber-tip line, and took his effort global, creating the International Centre for Missing & Exploited Children.
"With his career, he has truly changed the world. It's a rare occasion when you can meet a person like that," said Keith Inman, vice president for University Advancement.
Allen also advises governments, law enforcement, technology companies and others. In 2015, he was appointed by UK Prime Minister David Cameron to head a global initiative to combat online child exploitation.
"From the very beginning of his life as a student, he felt passionately about helping his community and making the world a better place," said Brandeis School of Law Dean Susan Duncan.  
More information about Allen is available online.  
Additional Alumni Award winners include:
College of Arts & Sciences
Roman D. Oben, 1995, played football at UofL and then spent 12 years playing in the NFL. He earned his master's degree in Public Administration and served as the NFL director of youth football.
"He exemplified what it means to be the student in student athlete and he exemplified what it means to be a team player. He's done everything in the world to make us proud of him," said Elaine Wise, faculty athletics representative.
More information about Oben is available online.
College of Business
Randall J. Bufford, 1981, was part of UofL's 1980 national championship basketball team. Former Coach Denny Crum said Bufford was a big part of that success.
Bufford started Trilogy Health Services and developed the company from to more than 100 properties and over 10,000 employees. It is now recognized as one of the best senior housing companies in the country.
More information about Bufford is available online.
School of Dentistry
Christine A. Roalofs, 1994, took her pediatric practice to Anchorage, Alaska. According to Dean T. Gerald Bradley, she is now withdrawing from her practice to do more work serving remote communities and villages.
"The only contact (the residents) have had will be Dr. Roalofs. The impact she will make on those children and communities is truly amazing," Bradley said.
More information about Roalofs is available online. 
College of Education and Human Development
Beverly J. Keepers, 1975 and 2004, was a teacher at Butler High School, where she developed a new reading program to help underachieving students. After that, she was hired as the principal of the Youth Performing Arts School and DuPont Manual High School.
"When (she) took them over, they were fledgling new schools. That concept (of magnet schools) was not well known and not even really even tested. Beverly embraced the vision, fleshed it out and revised the curriculum, instructions, and schedule," said Pat Todd from the Spalding University College of Education.
After 20 years as principal at those two schools, Spalding approached her to become interim dean at the College of Education.
More information about Keepers is available online.
J.B. Speed School of Engineering
Larry W. Combs, 1997, is the senior vice president and general manager of Jack Daniels Supply Chain. His responsibility includes the global production of Jack Daniels products.
"He is a fabulous example of someone who overcame a lot of obstacles in his life to reach his current level of success," said John Usher, acting dean of Speed School of Engineering.
He received a Governor's Scholar full-tuition scholarship to attend UofL, however during his sophomore year, his mother died of cancer and it affected him deeply and he lost his scholarship. He started working several jobs to pay for tuition and "he persevered," Usher said.
More information about Combs is available online.
Louis D. Brandeis School of Law
Nancy S. Niederman, 1980, was convinced by her sister to move to Los Angeles and interview with two pre-eminent entertainment law firms.
"Both firms made an offer and it's a real tribute to Nancy because they only hired ivy league students. She has negotiated hundreds of contracts with hundreds of contracts with actors, directors, producers, writers," said Dean Duncan.
Some of the movies she's been involved with include "Moonstruck," "Rain Man," "Avatar" and "Alvin and the Chipmunks." She recently retired from 20th Century Fox to start her own company, with clients that include Lionsgate.
More information about Niederman is available online. 
School of Medicine
Ella Victoria Turner, 1973; James E. Turner, 1972 and 1976, are both "exemplars of excellence," according to Dean Toni Ganzel.  
Vickie has been a clinical scientist for long time at St. Jude's Children's Research Center with a special interest in leukemia. Jim has spent his career in dermatology. 
"They've done an amazing job of balancing their medical and scientific careers with community involvement and with devotion for their family. They are scientists. They use that science to forward clinical advancements," Ganzel said. "But they're also wonderful people and involved in their communities."
More information about the Turners is available online.
School of Nursing
Donna S. Engleman, 1988, is described as an "atypical and nontraditional nurse" by Dean Marcia Hern. Engleman worked for the ICU and trauma units at UofL Hospital upon graduation, but then changed courses and began looking at patient outcomes.
She worked with a company where she studied pain management, and then began working with the FDA in Maryland to build out her knowledge on the topic. In this role, she has worked with 350 hospitals.
"I love the fact that she's taken this innovative path in nursing, and has created this niche that most nurses don't consider and has made it so successful and is a way of demonstrating that nurses can function in all sorts of areas," said Marianne Hutti, professor of Nursing Coordinator.  
More information about Engelman is available online.
School of Music
Marilyn S. Taylor, 1979 and 1985, is the voice department chair for the University of North Carolina School for the Arts. There, she has won two "Excellence in Teaching" awards.
School of Music Dean Chris Doane calls Taylor an "extremely talented and gifted musician," and also versatile, whether as an opera singer or performer of new music.
More information about Taylor is available online. 
Kent School of Social Work
Marcelo M. Matamoros, 1975, is a family therapist in the Dallas, Texas, area and co-founder of the nonprofit Counseling Institute of Texas, which addresses mental health needs of those who do not have health insurance.
He and wife Barbara established the Denny Matamoros Scholarship to support students seeking masters of science in social work degrees with a focus on gerontology. Matamoros is also president of UofL's Dallas Alumni Association and has helped raise scholarship money for Texas students who want to attend UofL.
More information about Matamoros is available online. 
School of Public Health and Information Services
Matthew R. Groenewold, 2002 and 2008, is often considered the very first graduate of the SPHIS. He began his interest in this field when he was a member of the Coast Guard and served in the Middle East. He then worked in public health services at the state, local and federal levels while engaging in academic pursuits, including teaching courses at UofL.
"He presents the complete package. He's a scientist at heart, a public servant, an educator, a selfless individual," said Paul McKinney, SPHIS associate dean.
More information about Groenewold is available online.
Videos by Brad Knoop and Randy Cissel, UofL's Office of Communications and Marketing. 
More photos from the awards ceremony are available online.