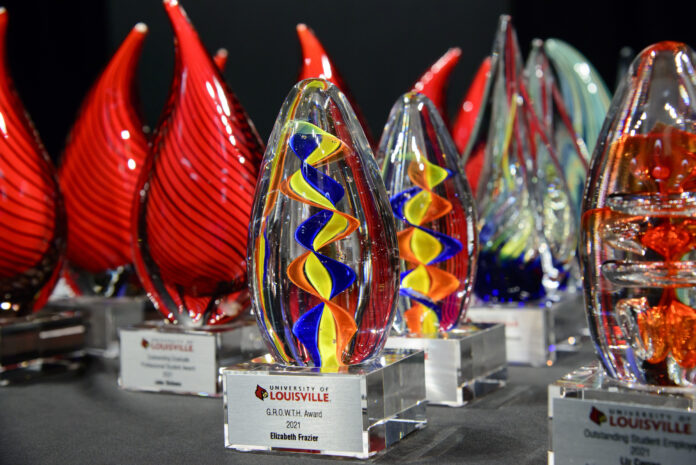 The 22nd annual Student Awards were held recently in a socially distanced ceremony. Winners are listed as follows. 
2021 Student Awards
Outstanding Junior Student Award: Katherine Brown; Eli Cooper; Jordan McGinty
Outstanding Senior Student Award: Anam Ahmed; Chidum Okeke; Julie Nwosu; Scotland Stewart
Outstanding Student Awards for Graduate and Professional Students: Brittney Corniel; John Dickens; Kaitlyn Nally; Mike Udoh 
G.R.O.W.T.H. Award: Mason McCellon; Morgan Mercer-Long; Amanda Keaton; Elizabeth Frazier; Phagan Marksberry
Spirit of Service (Individual): Kayla Payne
Social Justice and Inclusion Award (Student Group or Organization): American Medical Association/Kentucky Medical Association Medical Student Section Louisville (AMA/KMA/MSS Louisville)
Outstanding Cultural Program: International Fashion Show, sponsored by the Student Activities Board
Outstanding New Program: Cardinal Continuum, sponsored by the Student Organization Advisory Board
Outstanding Program of the Year: White Coats 4 Black Lives, sponsored by the Student National Medical Association (SNMA)
2021 Department Awards 
DRC Student of the Year Award: Benjamin Mitchell 
Intramural Supervisor of the Year: Erica Huston
SRC Front Desk Employee of the Year: Maddie Nuxoll
SRC Weight Room Employee of the Year: Daniel Hanson
HSC Employee of the Year: Scott Capece
Outstanding Student Employee Award: 
Danial Arsalan Malik, School of Medicine Division of Infectious Diseases
Dillard Collier, Political Science
Liz Corrao, Intramural and Recreational Sports
Trinidad Jackson, School of Public Health & Information Sciences 
Advisor of the Year: Jamieca Jones, advisor for Women 4 Women, American Association of University Women, Student Parent Association, United Nations Association for Women
Outstanding New Organization of the Year: The Cardinal Edge 
Student Organization of the Year Under 50 Members: Spanish Alliance of Louisville Unifying Diversity (SALUD)
Student Organization of the Year 50+ Members: raiseRED Dance Marathon 
ACC Top Six for Service Awards
Kaylee Wheeler
Jenna Servi
Meghan Schneider
Sam Minrath
Katlyn Harbsmeier
MaKenzie Kelley
Adult Learner Awards
Quinones Corniel, Jr.
Dr. Meera Alagaraja
Darla Samuelsen
Outstanding Metropolitan College Student Award: Lillian Medley
Campus Housing Desk Staff Member of the Year: Rachel Wilson
Campus Housing Facilities Student Staff Member of the Year: Austin Bullitt
Campus Housing Graduate Student of the Year: Jenna Slotten
Campus Housing Marketing and Communications Staff Member of The Year: Nicole Hurtado-Doctai
Campus Housing Resident Assistant of the Year: Orville Thomas
Campus Housing Technology Assistant Leader of the Year: Keegan Perry
Outstanding PEACC Center Volunteer Award  
Lorin Holloway
Anthony (AJ) Potter
Destinee Coleman
Holly Zoeller
International Student and Scholar Center Award: Thuy Trang Do
Fraternity and Sorority Life Chapter Awards 
Outstanding Alumni Engagement: Alpha Omicron Pi
Outstanding Campus Program: Delta Sigma Theta Sorority, Inc.
Outstanding Communications and Branding: Sigma Chi
Outstanding Community Engagement: Alpha Omicron Pi
Outstanding Member Development: Sigma Phi Epsilon; Delta Sigma Theta Sorority, Inc.; Kappa Delta
Outstanding Philanthropy: Sigma Chi; Alpha Kappa Alpha Sorority, Inc.; Kappa Delta; Sigma Kappa
Outstanding Risk Prevention and Accountability: Sigma Chi; Kappa Delta
Fraternity and Sorority Life Individual Awards
Servant Leader of the Year: Benjamin Gerdes
New Member/Neophyte of the Year: Tanner Jones; Andreyah Crittenden; Cheyenne Bayne
Senior of the Year: Benjamin Barberie
Council Officer of the Year: Rose Diffey
Chapter President of the Year: John Wolfe; Casey Porter
Fraternity Man of the Year: Dalton Everett
Sorority Woman of the Year: Emma Lawson