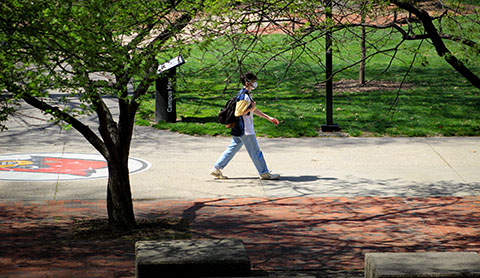 UofL has shifted its masking protocol to be in accordance with the CDC's new guidance for fully vaccinated people and the governor's new executive order on face coverings. More information is below.
If you are fully vaccinated
You no longer need to wear a mask or physically distance on campus in most settings.
Be mindful of the specific requirements that still apply with public transportation and health care settings on campus, regardless of vaccination status. For example, Cardinals who wish to use the TARC shuttle services or health care facilities on our campuses will still need to wear a mask. Those settings are still required to abide by the state's and the Kentucky Health Department's masking standards, regardless of vaccination status.
For the foreseeable future, you should continue to carry a mask with you in case you interact with university affiliates, health care facilities or other vendors that have mask requirements in place.
If you are not fully vaccinated
Continue to wear a mask and practice physical distancing in all public, indoor settings on campus.
Find a vaccination site near you. There are numerous, convenient locations available in our area and beyond.
Remember, the vaccines are safe and effective. They are among our greatest tools for fighting the pandemic and protecting ourselves, each other and our loved ones.
Vaccine strongly encouraged, not required
At this time, we do not plan to require vaccinations for students or employees this summer or fall. We do strongly encourage all Cardinals to get vaccinated. If you have questions about the vaccine, visit the CDC's website or review our Vaccine FAQs for answers to frequent questions such as "Will I need a booster dose?" "Do I have to quarantine following an exposure if I'm fully vaccinated?" and more. 
Thank you, again, for your continued patience as we respond to changes in CDC and state guidelines. We will continue to keep you regularly updated and remember; in addition to reviewing our FAQs, you can speak with a helpful member of our Business Operations COVID Support Team when you have questions or concerns.