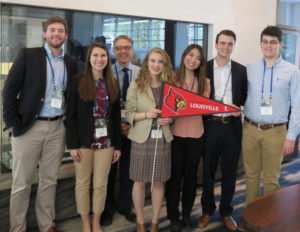 It's called the ACC Meeting of the Minds Conference and, in this case, the minds all belong to undergraduates from the 15 ACC schools, including the University of Louisville. Six UofL students presented their undergraduate research projects earlier this month at Duke University which hosted the 12th annual conference.
Noah Gripshover shared his research on swimming ants.  "I really enjoyed it" he said. "I benefited from getting feedback on my research and spending time hanging out with students from the University of Pittsburgh and Clemson University."
UofL associate vice president for research and innovation, Pam Feldhoff, said the conferences provide an invaluable learning and networking opportunity for Cardinal undergrads who discover "their research is as exciting and high quality as that at other ACC institutions."
That's what Kristen Hamilton discovered. Hamilton brought her research on the ways an anti-epileptic medication (VPA) might induce autistic-like behaviors in mice.
"I think the students representing UofL were just as knowledgeable as students from elite schools like Duke or Wake Forest," Hamilton said. "It boosted our confidence as UofL undergraduates to know that our education and experience are on par with other ACC schools."
Hamilton adds that her UofL experiences should be a valuable selling point to high school students looking to do challenging research as college undergrads.
Kyle Bilyeu, Madison Furnish, Jared Hall and Adaleine Heitz were the other UofL students joining faculty member Paul DeMarco at the conference.