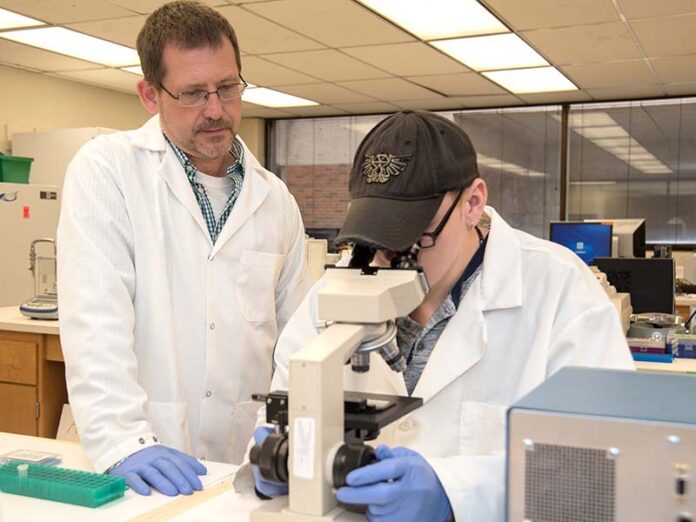 Process will not stand in the way of progress for three University of Louisville research initiatives. On March 17, 2022, the Audit, Compliance and Risk Committee of the University of Louisville Board of Trustees approved a measure which allows three faculty members to use their own business enterprises as they work on their research projects at UofL.
Kentucky Revised Statutes (KRS) 164.367 and 164.821 prohibit teaching and administrative staff to be directly or indirectly interested in any contract with the university for the sale of property, materials, supplies, equipment or services unless specifically approved by the Board of Trustees. Members of the Audit, Compliance and Risk Committee noted that the reconsideration of the statutes in these three instances is in the best interests of the university given the positive implications of the research.
Research takes flight with Michael Menze's proposal to study red blood cell preservation for exploration spaceflight transfusion therapy. Menze, a professor and associate dean in the Department of Biology, submitted a pre-proposal for the research to the National Aeronautics and Space Administration Establish Program to Stimulate Competitive Research. As part of the proposal, a subcontract to a small business, DesiCorp, is included. Menze is a co-founder, president and holds equity in DesiCorp. 
Back down on Earth, Claudio Maldonado looks for ways to treat myocardial infarction (heart attack), which, according to the Centers for Disease Control and Prevention, impacts about 805,000 people in the United States every year. Maldonado, a professor in the Department of Physiology and Department of Surgery, has submitted a proposal to the National Institutes of Health to study the mechanisms of lipid therapy to treat heart attacks. As part of the proposal, a subcontract to a small business, EndoProtech, is included. Maldonado is co-founder, president and holds equity in the business. 
Sports performance gets specialized thanks to Ernest Rimer's efforts to assists sports programs in the design and implementation of individualized training programs for athletes and sports. Rimer is director of sports science at UofL Health and holds equity in FYTT Inc., which markets the performance software that develops the training programs and provides monitoring tools to assess those programs. The UofL Athletic Association intends to procure a six-month trial license for evaluation purposes and, if successful, would potentially pursue a full license of the software. Since Rimer is an employee of UofL Health, this would not normally invoke the KRS restriction against an interest in the contract. However, Rimer's spouse is currently a UofL employee and therefore the restriction comes into consideration.
Philosophy MA moves forward
The Academic and Student Affairs Committee approved a motion to create a Master of Arts in applied philosophy degree. As part of the College of Arts and Sciences, the degree will be a 33-credit-hour program. Since 2008, philosophy has anchored the Master of Arts in interdisciplinary studies – health care ethics (IS-HCE). The program has produced 49 graduates. Having demonstrated viability, the HCE program will move under the rubric of applied philosophy.
According to Interim Provost Gerry Bradley, this move satisfies the original intent of the Graduate Interdisciplinary Studies umbrella and strengthens the Department of Philosophy. The program will be the only Master of Arts program in Kentucky dedicated to health care ethics.
"This degree program strengthens both the Department of Philosophy and the College of Arts & Sciences," Bradley said. "Furthermore, it demonstrates how the oldest discipline in the humanities can reaffirm its relevance in today's higher education landscape."
Finances remain firm
Dan Durbin, executive vice president of finance and chief financial officer, gave a financial update for Fiscal Year 2022 through Jan. 31, 2022. Revenues and expenses were up compared to January 2021. So far, revenues for FY 2022 are $145,832,000 more than expenses with an increase in net position of $45,584,000 compared to January 2021.
According to Durbin, significant revenue fluctuations are attributed to student tuition and fee revenue increases, consistent rent and lease payments from UofL Health, an increase in grant revenue, increase in intercollegiate athletic revenue due to the release of COVID capacity restrictions at events, among others.
Editor's note: the various committees of the University of Louisville Board of Trustees will present their full reports at the April 21, 2022, regular meeting of the trustees.